###
The vacant lot at the intersection of Foster and Sunset Avenues in Arcata may soon be home to a new community health center. With the help of a $300,000 grant from Humboldt Area Foundation, Open Door Community Health Centers plans to build a two-story, 31,000 square foot facility on the site.

Open Door purchased the lot in 2014 and, according to a press release sent to the Outpost today, intends to break ground on the project in 2020 and complete construction by 2022. The project has not yet come before the Arcata Planning Commission for review.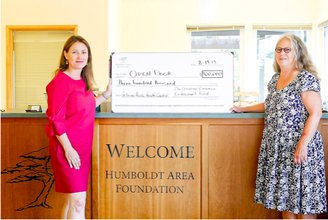 Eric Salholm, Open Door's communications manager, told the Outpost that the plan is for Open Door Clinic and North Country Clinic in Arcata to relocate to the new site and combine their services. He was not entirely sure what the plan is for those two buildings after that. But said they may be used for other Open Door services.

Salholm is excited for the new center's potential to improve access to healthcare, something that is a struggle for many people in the area.

"One of the things we're always trying to do is work on access," Salholm told the Outpost. "We're working on bringing more providers here all the time. Having a nice new facility makes it more attractive for people to do their residencies here."
More information can be found in the following Open Door Health Centers press release:
Open Door Community Health Centers has received a $300,000 grant to support construction and operation of a new community health center in Arcata. The grant is from the Orvamae Emmerson Endowment Fund, a fund of the Humboldt Area Foundation (HAF). It will pay Open Door $60,000 each year from June 2019 through June 2023.

"We are proud to help further the vital services that Open Door Community Health Centers provides with this grant," said the HAF's Chief Executive Officer Bryna Lipper. "By supporting this visionary organization to build, improve, and integrate its facilities and operations, the Humboldt Area Foundation can impact the well-being of thousands of people in our region."

The Arcata Community Health Center will be located just west of the intersection of Foster and Sunset Avenues on a 1.8-acre lot purchased by Open Door in 2014. The new health center will allow Open Door to unite its two, existing Arcata health centers: the Humboldt Open Door Clinic (770 10th Street) and the NorthCountry Clinic (785 18th Street). Rather than renovating these aging buildings, Open Door will relocate to a new, purpose-built facility that will enhance operations and modernize the health care experience for patients. The move will also open up two valuable lots in the heart of Arcata.

"The Arcata Community Health Center will be a state-of-the-art facility similar in design to our newer health centers in Fortuna and Eureka," said Cheyenne Spetzler, Open Door's Chief Executive Officer and Chief Operations Officer. "We look forward to welcoming our Arcata patients into their new medical home—one which will elevate the level of care we can provide to them."

The new health center will be two stories, totaling roughly 31,000 square feet. The ground floor will provide space for four medical care teams, with each team comprised of three or more providers, a registered nurse, four to five medical assistants, and a behavioral health specialist. Along with 35 exam rooms—including one designated for triage—the first floor will contain four procedure rooms, four consultation rooms, and a laboratory. The second floor will include conference rooms and a behavioral health suite with four counseling offices.

The facility's design will include energy efficient lighting and occupancy sensors, and a solar array is also likely. In the event of a power outage, an emergency generator will allow operations to continue for an extended period. To accommodate various modes of transportation, the health center parking lot will include an electric vehicle charging station and bicycle parking, while sidewalks on the grounds will connect to existing pedestrian paths.

In accordance with the terms of the grant, Open Door intends to attain all necessary certifications and permitting in time for a 2020 groundbreaking. Open Door anticipates completing construction of the health center no later than 2022 and providing over 40,000 patient visits on site within the center's first year. The Arcata Community Health Center will be open six days a week: Monday through Friday from 8 a.m. to 5 p.m. and Saturdays from 9 a.m. to 1 p.m.

Open Door Community Health Centers extends its appreciation to the HAF for their support. This generous grant from the Orvamae Emmerson Endowment Fund will help Open Door deliver on its mission to provide high-quality, whole-person health care to all—regardless of financial, geographic, or social barriers.