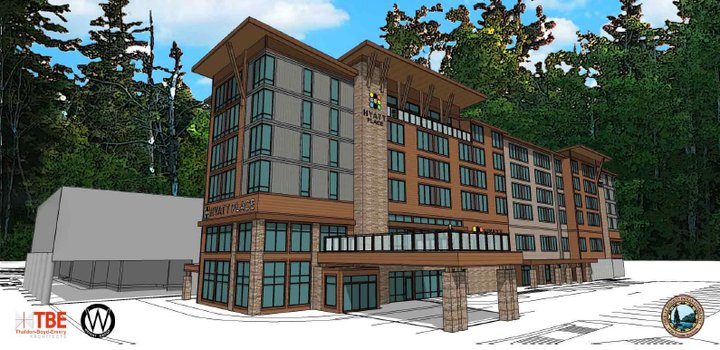 Well, for much of the afternoon and early evening it looked like things were headed in the other direction, but the California Coastal Commission on Thursday night gave a conditional go-ahead to the Trinidad Rancheria to build a five-story, 100-room hotel on the bluff above Scenic Drive, overlooking the majestic Pacific Ocean.
That condition? Finding a reliable source of water.
Officially, the decision before the commission was whether or not to agree with the federal Bureau of Indian Affairs (BIA), which had submitted a consistency determination saying, in effect, that the project complies with the provisions of the state's Coastal Act.
The Coastal Commission already considered this project back in June and, with a 6-3 vote, objected to the BIA's consistency finding.
Today the commission considered the matter again, focusing on two issues: the water supply to the hotel and its visual impacts — whether or not the design fits into the character of its surroundings or sticks out like a sore thumb. Intertwined with these questions were the matters of tribal sovereignty and environmental justice — the ever-present backdrop of historical genocide and the displacement of Native peoples.
The commission came very, very close to objecting to the project on the basis of its appearance. However, the agency wound up voting 5-6, disagreeing with a staff recommendation to find the hotel project inconsistent with the Coastal Act on aesthetic grounds. In other words, they said — by the narrowest possible margin — that the hotel design looks okay.
And after grilling Rancheria CEO Jacque Hostler-Carmesin and Trinidad Mayor Steve Ladwig about the supply of water for the hotel — which could wind up coming from the city, or possibly from a well drilled just last month, or conceivably not at all — the commission voted 8-3 to find the project consistent with the Coastal Act, with the following condition: that prior to construction, the BIA shall provide evidence to the commission's executive director that a sufficient, reliable water source has indeed been lined up.
Humboldt County Supervisor Mike Wilson, attending his first meeting since being appointed to the commission, voted with the majority.
It was a long hearing with plenty of impassioned testimony, some dramatic reversals, and more than its fair share of procedural confusion. Look for a longer write-up on the Outpost on Friday.