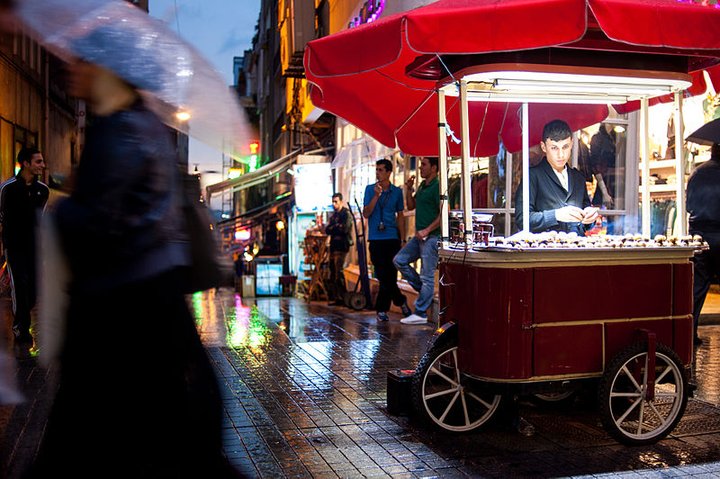 ###
When I arrived in Istanbul at the dawn of this past decade, the world was in the midst of the Great Recession. The decade before that had been tumultuous, starting with the Twin Towers crashing down in a near-biblical cloud of dust.
Meanwhile, I'd left a journalism career back in California and headed to Prague, where I'd spent five years in and out of pubs (mostly in), teaching English and trying to become a writer. I'd even spent a night in a Czech jail for kicking a car while drunk and disorderly in the streets of Karlin, my neighborhood in Prague at the time.
For that little adventure, I paid a stiff fine, and a few months later found out that my residence permit could not be renewed owing to my "criminal record." Unable to stay in Prague, I spent a couple months desperately weighing my options. America, where people were standing scores deep in unemployment lines, where my parents warned that "money was really tight," didn't hold much promise. Of course, there were lots of teaching jobs in China, but I wasn't so sure I wanted to go there.
So that's how I ended up in Istanbul. It just seemed a better fit – still somewhat European, but with the Middle Eastern and Mediterranean vibes seemed to offer something new to my jaded and jangled nerves. It was what I needed: a fresh start.
###
It's odd to look back on the Istanbul that greeted me that winter and spring of 2009-2010. A vast, sprawling city, rocking back and forth on the breast of the Bosphorus. As I settled in, started working at the English school in Suadiye, I couldn't help but feel fortunate. Everything had fallen into place so – fortuitously. I read about Americans back home struggling to stay afloat, and there I was walking by the Bosphorus in the mornings, with seagulls swooping overhead, the ferry boats beating in the sunlight, heading to work, getting on with my new life.
In the evenings after work, I often sat on the terrace with some beer and a book, listening to music, watching the sun go down over the great mosques in the distance, and looking out at the goings-on in the streets below.
###
The next couple years passed quickly. As a bachelor, I spent the time I wasn't teaching roaming the city, the neighborhoods of Kadıköy, Beyoğlu and Moda, drinking and looking for things to write about. I met lots of other foreigners, teachers, Erasmus students from all over Europe. Istanbul was a hip place, cosmopolitan, the new urban chic. It made my memories of San Francisco and New York, and even Prague, seem pedestrian in comparison, as though I were trodding down a well-beaten path. Istanbul felt different. This was where the 21st Century was happening (to steal a phrase from Miss Stein).
Other teachers felt the same way. We hung out together occasionally, but mostly fanned out in search of our own adventures. Some took weekend trips to Cappadocia, to Bodrum, even beyond Turkey to Beirut and Demascus. In 2010, Syria was a peaceful, relatively prosperous neighbor just over the border to the south. There was even a free trade zone between the two countries, so Syrians and Turks could travel back and forth without visas. That all changed the following year, when the Syrian government began battling with Arab Spring protesters, which would result in a crippling civil war that continues to this today.
It was in the spring of 2012 that we began seeing Syrian refugees in the streets of our neighborhoods. Families sitting on the sidewalks, holding up placards asking for help, mothers hanging the laundry on nearby bushes while their children hit up passersby for spare change.
The following year saw the Gezi Park protests, which saw the streets outside my apartment in Kadıkoy thronged with anti-government demonstrations night after night, the sounds of chants and banging pots calling for then-prime minister Erdoğan to step down. Russian warships passed through the Bosphorus, headed to the Mediterranean, an ominous sign that the situation in Syria could escalate. With the Gezi protests, and as the number of refugees swelled, we wondered desperately if the tumult that had overwhelmed Syria was headed our way.
###
That autumn I met Özge, on a rare quiet evening. We had a glass of wine in Viktor Levi in Kadıköy, and though we didn't know it then, that evening marked a turning point in both our lives. We married in the summer of 2015, and spent the reception afterward dancing atop of a ferryboat steaming up a twilight Bosphorus toward Beykoz and the Black Sea.
Then came the events of July 15, 2016. That Friday night when tanks and soldiers took control of the Bosphorus Bridge, and all night we could hear sounds of fighter jets streaking over the skies. It was a military coup attempt. By morning, it was all over, the soldiers had surrendered. But then, the country went into a state of emergency that lasted for the next two years. More than a few of the foreign teachers, fed up with all the uncertainty, packed up and headed home, or else to greener pastures in Asia. At times, my wife and I felt envious, but could we do? We had our life here. We were invested.
After a decade of Prague nights and Istanbul sunsets, marriage brought a new element to my life: the prospect of settling down. I found a job teaching at a university, with regular hours and full benefits, and we purchased an apartment in Üsküdar on the city's Asian side. And now, we are expecting our first child any day.
These days, the city has also changed in many dramatic ways. The Marmaray connects the two continents beneath the Bosphorus, a third transcontinental bridge spans the skyline, and a new international airport, set to be the world's busiest, has opened.
And when I look out at my students' faces at the university, some of them are Syrian. I reflect that these 18-year-olds were just children a decade ago, and maybe some of their parents were refugees. It's not too hard to imagine, just hypothetically, that maybe some of them were the very same children I saw on the streets of my neighborhood long ago.
And I imagine, too, that one day, one of those students could be my own son.
A lot can change in ten years. Just think: If I hadn't got drunk and kicked that poor car back in Prague, I might never have met my wife, and my son might never have been born. Is that fate? Luck? Karma? Best not to think too much about it, and get on with living. All I will say is that the past decade has been good to us. Maybe it pays to take a few risks, and to stick with your investment, for better or worse.
Now, a new decade, the 2020s, stands at attention just outside the doorway. And a newborn. We wait anxiously, knowing that the time sure does go fast. While it may turn out to be another Roaring Twenties, we also hope that the new decade will bring us – and the world our son will soon join – a small measure of peace.
###
James Tressler is a former Lost Coast resident. Some of his literary ramblings, including "Strait Fiction" and "Inside Voices," can be found at Booklegger in Eureka, Northtown Books in Arcata, and at Lulu.com.