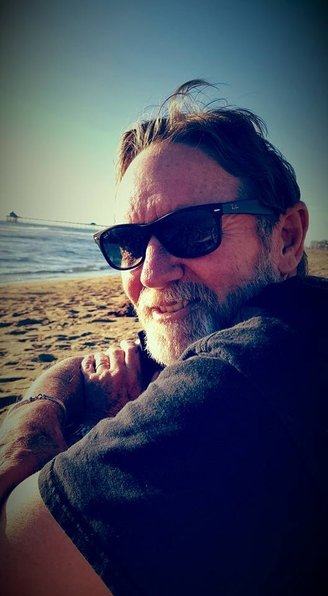 Charles Steven Brewer, better known as Steve, passed away at the age of 70 in his home in Eureka on November 28, 2019 after a long, valiant battle with kidney cancer with his family by his side.

Steve was born in Atlanta on November 5, 1949 to Charles G. Brewer and Eva Brewer. Steve spent his childhood on various naval bases throughout Florida, Texas and California. His family finally ended up in Imperial Beach, Calif., where he spent the next 40 years. Steve graduated from Mar Vista High School in Imperial Beach in 1967 and went on to attend UCSD until he was drafted into the US Army to serve his country during the Vietnam War from 1969-1971. After discharge from the army, Steve spent his time surfing, attending college and worked at various trade jobs. He finally found his niche when he went to school to become a respiratory therapist.
Steve worked as a respiratory therapist from 1996 until his retirement in March of 2019. He loved his work and his passion for it showed. It was always nice to see Steve come walking down the hall. He was thorough in his care and an excellent teacher. So many RTs and RNs learned at the bedside how to be better at what they did because of him.
Steve and his wife, Theresa, moved to Eureka in 2001, along with their boys. Steve's greatest passion was his family, followed close by baseball. We all know he loved baseball, especially the San Diego Padres, which he has been a fan of since 1969. But watching his son play ball was his favorite. Steve also had a love for music, surfing/the ocean and his car. Steve loved music and loved to share music. He believed there is a song for everything in life. His collection was eclectic, from Monster Magnet and Straight Outta Compton to The Beatles, from Neil Young and Eric Clapton to Alabama, even a little gospel music (that would be Theresa's influence). Steve also loved the ocean and salt air and to surf. When the stress of medical issues would get to much to handle a drive to the beach to watch the sunset and breath the salt air was the best medicine. Steve also loved cars, especially fast cars. We are pretty sure if he could've found a way to take his WRX with him he would have.
Steve lived his life on his own terms. He was larger than life with a heart to match.
Steve is survived by his wife, Theresa Story Brewer; his children Justin A. Brewer, D. Paul Cradic (Melissa), Cody J. Cradic and Jones Steven Brewer; granddaughters Lillian R. Cradic and Lorelei J. Cradic; siblings Sandra Turner (Randy), Mike Brewer (April), Rick Brewer, Mona Chase (David) and John Baehr (Sandy); his Uncle Jones and Aunt Jean Brewer and several nieces, nephews and cousins.
He was preceded in death by his parents, Charles Griffin Brewer and Eva L Jones.
Memorial service will be held on Saturday, December 7, 2019 at 2 p.m. at the Eureka Church of Christ located at 1610 I Street, Eureka CA 95501 with a small reception to follow in the fellowship hall.
A celebration of life will be held at a later date in March.
The family would like to thank the staff of UCSF, Dr. Vadim Koshkin and Brigid Sullivan Miralda CF-NP, Amber Flowers FNP, Hospice of Humboldt and all the caring staff at St Joseph's Hospital who took exceptional care of Steve each and every time he was there as a patient. A special thank you to Dr. Tom Rydz who has been there with us from the beginning, guiding us through decision making, helping us to navigate the medical world as a patient but most importantly, supporting our family with his love and friendship.
###
The obituary above was submitted on behalf of Steve Brewer's loved ones. The Lost Coast Outpost runs obituaries of Humboldt County residents at no charge. See guidelines here.