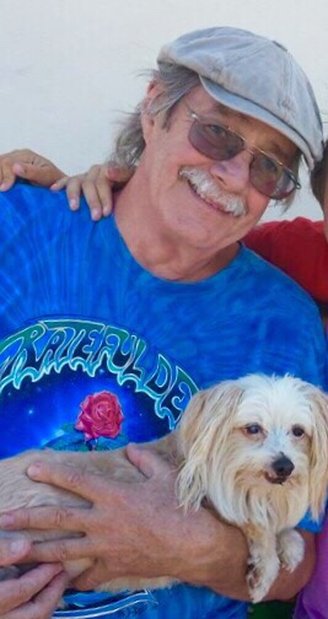 On Tuesday, January 15, 2019, Lloyd Alan Hauskins, loving husband, cherished father, adored grandfather, and dear friend to many, passed away at the Garberville Hospital at the age of 72.

After having fairly robust health, he succumbed very quickly to double pneumonia, much to the heartbreak and sadness of his family.
He was born January 1, 1947, in Minneapolis, Minnesota to Lawrence and Elizabeth Hauskins. He grew up in Edina and was the youngest of three boys.
His life was filled with fun, laughter, protests, rebellion, being non-conformist, immersed in music, and one of his greatest loves — playing his guitar. As an English major at the University of Minnesota, he had a fondness for the written word, studying Latin, Greek Mythology, Shakespeare, as well as many other classics.
He met his love of 50 years, Annie Hauskins, in Minnesota. He was so smitten with her grace and beauty that he dressed up in tights and attended ballet classes she was in so he could dance and woo her with his spinning pirouettes and dashing charm. They ventured to Garberville en route to Canada, where they exited to refuel and fell in love with the beautiful area. They decided to anchor some roots for a while and call the redwoods their home. They became the 'Three Musketeers' when their daughter Gabrielle Hauskins (Totten) was born at Salmon Creek.
After a few years they uprooted and resided in Davie, Florida where he was a paramedic/firefighter for a decade. He enjoyed landscaping, home projects, the warm sun, sandy beaches, family time, gathering with friends, music jams and band gigs.
In 1985, they sold their Florida home, packed up all their belongings, and returned to Humboldt, where they have resided for 34 years. Back once again to the land that he held such reverence and appreciation for in his heart; with its beautiful oaks, exquisite madrones, majestic redwoods, golden hills, flowing creeks, community that is family, music that is life, and stages he has rock n rolled on. His home — where he has shed blood, sweat, and tears. Where he has celebrated, cultivated, nurtured, and is now his everlasting place.
He is survived by his wife, Annie Hauskins, his daughter, Gabrielle Totten, his 5 grandchildren, Emily, Sierra, Kayla, Helena, Landon, and numerous extended family and dear friends.
He was preceded in death by his parents, his two brothers Harlan and Harold Hauskins.
There will be a celebration of his life in late March or April.
###
The obituary above was submitted on behalf of Lloys Hauskins' family. The Lost Coast Outpost runs obituaries of Humboldt County residents at no charge. See guidelines here.