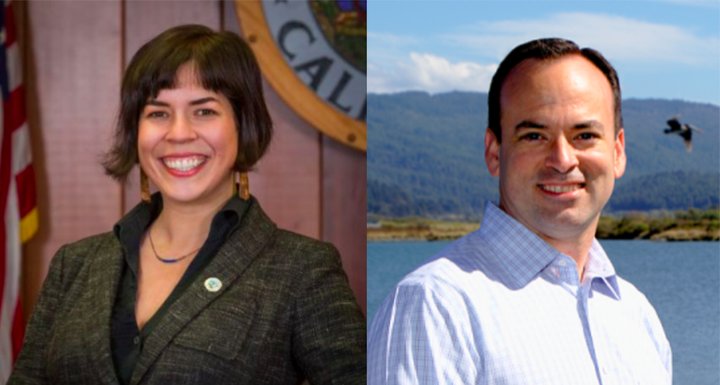 Eureka City Councilmember Natalie Arroyo and Arcata Mayor Brett Watson are each hoping to become the next North Coast representative on the California Coastal Commission, though they're facing competition from elected officials to our north and south.
Mendocino County officials have rallied behind longtime Fort Bragg City Councilmember Lindy Peters, with both the Board of Supervisors and City Council endorsing his candidacy, while up in Del Norte County, Crescent City Mayor Blake Inscore has thrown his hat into the ring.
All are hoping to succeed Ryan Sundberg, the former Humboldt County supervisor, who will lose his seat on the commission after failing to win reelection last year.
Arroyo and Watson are competing for endorsements from local groups, though Watson said they're "friendly and cordial" about the situation and have met to talk about the appointment.
The Eureka City Council will discuss the matter tonight, and they're expected to recommend Arroyo. The Arcata City Council will talk about the issue Wednesday night and, as you would predict, they're expected to recommend Watson. On Thursday afternoon, the Mayors City Selection Committee, which is comprised of the mayors of Eureka, Arcata, Fortuna, Blue Lake, Rio Dell, Ferndale and Trinidad, will deliberate on the issue.
Eureka Mayor Susan Seaman told the Outpost that the committee is not limited to just one nominee, so they could wind up recommending both Watson and Arroyo.
Same deal with the Humboldt County Board of Supervisors. Board Chair Rex Bohn told the Outpost this afternoon that the board will likely take up the matter of choosing a nominee next week or the week after. He's not sure who they'll wind up selecting, though he mentioned that Inscore "comes pretty highly recommended" by his friends in Crescent City. "I hear he's real strong," Bohn said. "A nice guy, and a friend of [State Senator Mike] McGuire."
Third District Supervisor Mike Wilson considered pursuing the Coastal Commission seat himself but ultimately decided against it. "I think Humboldt County has at least two qualified people that are interested that I believe can capably represent our community," he told the Outpost.
Wilson said he plans to urge his fellow board members to nominate both Arroyo and Watson.
The appointment will ultimately be made by Governor Gavin Newsom. His office has asked for city and county officials in the North Coast district — comprised of Mendocino, Humboldt and Del Norte counties — to nominate "at least one [county] board supervisor and at least one city council member" for the seat by mid-March.
So far no county supervisors from the three-county region have stepped forward in pursuit of the position.
A letter from the governor's office to the Humboldt County Board of Supervisors said, "Candidates for consideration should be officials committed to and knowledgeable about coastal preservation and conservation."
Arroyo said she's passionate about the California Coastal Act, having grown up in Florida where private beaches often limit coastal access. She also said that, thanks her service as a marine science technician in the U.S. Coast Guard Reserve, she understands the importance of implementing regulations fairly and consistently.
"I mostly just find it incredibly interesting to think about and be a part of the Coastal Act," she said, noting how different the North Coast is from the beaches of Southern California.
Watson said he's drawn to the opportunity because he sees a lot of challenging issues coming up for the North Coast in the near future, "and I think it would be a great opportunity to serve the North Coast in that capacity."
The California Coastal Commission, which meets once a month at various locations up and down the state to consider land- and water- use issues in the coastal zone, includes a dozen voting members and three non-voting members. Half of the voting members are elected officials from coastal counties while the other half are "public members."
The Outpost attempted to reach Inscore for comment but didn't hear back before the time of publication.