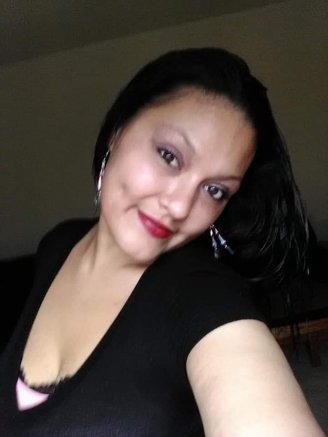 Miranda Rose Obie and her unborn daughter passed away suddenly, due to pregnancy complications, at Mad River Hospital on Thursday February 21, 2019, at the age of 27.

Miranda was born on November 30, 1991 in Arcata. She was the fifth of her seven siblings, the baby girl. She grew up in the Hoopa Valley, where she attended Hoopa Elementary School, and later graduated from Captain John Continuation School. She also attended College of the Redwoods. She worked for the Yurok Tribe JOM summer camp and at the Best Western in Eureka.
Miranda had one of the most beautiful and infectious smiles, with a set of the most unforgettable dimples you have ever seen. She was a beautiful person inside in out. She was very artistic and enjoyed beading, writing poetry, baking, singing and coloring with her children. She had compassion for all living things. Miranda had a playful nature — she loved to laugh, and be goofy and was always optimistic and in good spirits. She loved people and made memories with friends from all walks of life. More than anything, she loved her five children and spending time with her close family. She was a great mother and was adored by her children. She was also a loyal daughter, granddaughter, mother, sister, niece and friend. Miranda was also known for being very resourceful and had talent for making the best of any situation. Her memory will be carried on in the hearts of the people that loved her.
She is preceded in death by her grandparents Michael Galyean, Les and Dorothy Obie, Aunt Lisa Obie and Sister Frankki Marshall.
Miranda is survived by her parents Kimberly and Darrell Obie; her children Joseph Obie, Ethan Obie, Taylor Obie-Holt, Tyler Obie-Holt, Arianna Obie-Holt; her siblings Michelle Galyean, Dorothy Sylvia, Christina Lamebear, Mike Obie, Miles Obie; her grandparents Bob and Barbara Rakestraw; her aunt Melva; uncles Lawrence "Blue" Obie and Jason and Austin Rakestraw; her nieces and nephews Evelyn and Brayden McCovey, Nanikustann and Olekweshon Sylvia, Andrew Lamebear Jr., Terresa, Terrance, and Curtis McCovey; close cousins Jason "Jr." and Shelby Rakestraw, and many more cousins, aunts and uncles.
Pallbearers: Brandon Rakestraw, Tristin Serverns, Caw-Tep Sylvia, Richard Rutherford, Dominick Serverns, Andrew Lamebear Sr., Jason Rakestraw Jr., Blaine Hurn, Curtis McCovey, Terrance McCovey
Honorary Pallbearers: Ron Reed, Austin Rakestraw, Jason Rakestraw Sr., Joseph Obie, Ethan Obie, Miles Obie, Mike Obie, Laurence "Blue" Obie, Brian Holt, Gary Blacksmith, Butch Reed, Bob Rakestraw
The funeral service will be held at the Morek Won Community Center on Wednesday, February 27, at 1 p.m.. She will be laid to rest, next to her sister, at the Wautec Cemetery directly following the services.
After the burial, the family invites everyone to join them at the Morek Won Community Center for a potluck dinner and to share your favorite memories of our dear Miranda.
###
The obituary above was submitted on behalf of Miranda Obie's family. The Lost Coast Outpost runs obituaries of Humboldt County residents at no charge. See guidelines here.