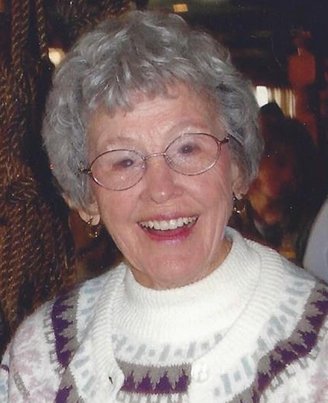 June was born at home in Blue Lake on June 6, 1921. She died peacefully on December 26, 2018 at Humboldt Hospice House with her daughter, Greta, by her side. She was 97 years old.

June attended Eureka High School and was a longtime resident of Eureka, also spending time in Petaluma. She married Karl O. Lehto in 1938. June worked side-by-side with her husband building many homes in their early marriage. June worked a number of years for J.C. Penney in the men's department, and later for Daly's in linens and draperies, where she retired. Later in life, June sold real estate for several years.
June's life was full. Other than being a wife and mom, she was an avid gardener. She learned to play guitar and even to pilot a plane. She was an accomplished artist starting in grammar school, sharing her work with family and friends and eventually selling some of her work, too. June was masterful at sewing, creating wedding dresses, fine women's dresses and children's clothing. She enjoyed sharing her talent with her daughter and then granddaughters. June also baked wedding cakes as beautiful as your imagination could create. She loved her family and always spent holidays and special times with them at home and near and far. She loved to host family and friends up at her Trinity Village cabin.
June was married to Danny Montelbetti the last half of her life, until his death in 2006. With him they traveled to China, Europe, Australia, New Zealand, Hawaii, Alaska and the Bahamas. After his parting, her son Harold was oft a companion — taking her out to lunch regularly, catching garage sales on weekends. As the years passed, June was able to remain in her Eureka home until her illness, due largely to her son Harold and his unwavering love and dedication to her safety, health and wellbeing. We know that she is eternally grateful for this.
June was predeceased by her parents Harold Chester (Hadie) and Alta Goodwin, her first husband Karl O. Lehto, and second husband Danny A. Montelbetti, and granddaughter Jennifer Macias, great-granddaughter Monica Macias, great-grandson Robert Lehto, along with her brothers and sisters, Mel Goodwin, Helen McGuire, Harold Goodwin, Jim Goodwin, Fred Goodwin, Lyn Goodwin, Dave Wilkins, Edrice Day, and Edie Gray.
June is survived by her daughter Greta Lehto, son Harold Lehto (Inga), and son Karl Lehto; grandchildren Kelly Ward (Dick), Sue Salehpour (Ali), Chris Lehto (Becca), Mary Shumard (Brad), Natalie Anthony (Ken); and great-grandchildren Dan Brughelli (Kristen), Scott Philips, Jadie Philips, Katy Shumard, Alyssa Salehpour, Amelia Salehpour, Lacy Taylor, Ella Anthony, and Sophia Anthony. Also by brothers and sisters, Bob Goodwin (Evelyn), Margaret Pennington, Janet Lamberson, Audrey Goodwin, Kathe Goodwin, and Delbert Day.
Deep gratitude goes to her granddaughter, Mary Shumard, who has delivered numerous meals and checked in on her health and safety regularly, for the last two years of her life. Special thanks to the staff at St. Joseph's Hospital, Ruby Luna, her friend and caregiver during her final two months, and the staff at Humboldt Hospice House for their gentle care.
"What I will miss so much is her utter joy when she first saw you, her cute shouts of joy as she approached to give that fierce hug of hers and those whispers in your ear telling how happy she was to see you. I can barely let go of that." ~granddaughter
Viewing will be January 18 from 1 p.m. to 4 p.m. at Sanders Funeral Home, 1855 E Street, Eureka. Graveside services will be January 19 at 10 a.m. at Ocean View Cemetery, 3975 Broadway, Eureka.
###
The obituary above was submitted on behalf of June Montelbetti's family. The Lost Coast Outpost runs obituaries of Humboldt County residents at no charge. See guidelines here.