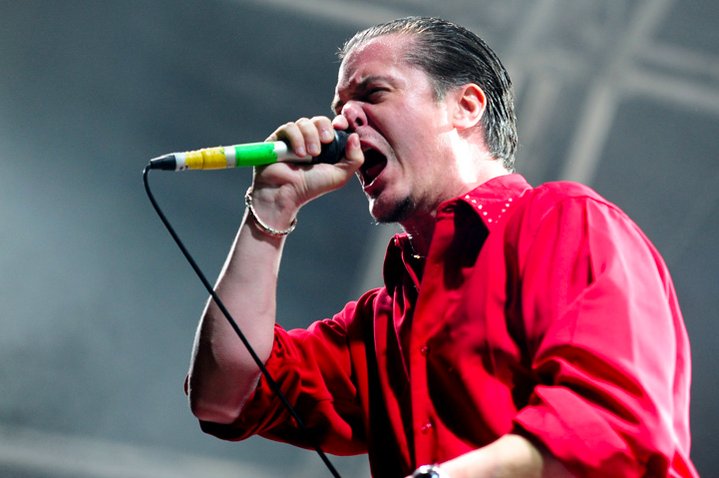 (UPDATE) Sunday, 10 a.m.:
Faces remained unmelted in the LA Coliseum last night, after Eureka rock legend Mike Patton canceled his rendition of "The Star-Spangled Banner."
Patton announced on Facebook yesterday, that he wasn't feeling well enough to perform the national anthem. However, the Facebook post has since been deleted.
"Sorry football folks, I woke up feeling horrible," Patton wrote on Facebook yesterday. "No anthem today for me!"
A violinist performed a country rendition of the anthem in Patton's place.
Rolling Stone reports that if the Eagles defeat the Saints today, the Rams will play their next playoff game in Los Angeles, possibly giving Patton another chance to perform.
###
Eureka born-and-raised rock legend Mike Patton will be melting faces at the Los Angeles Memorial Coliseum tonight, as he belts the national anthem for the Cowboys v. Rams NFL playoff game.

Patton is best known as lead singer for the rock band Faith No More and to some (especially locals) for his work with the Eureka-based experimental rock group Mr. Bungle. Patton is famous for his incredible vocal abilities, boasting an impressive six-octave range.
Basically, Patton's rendition of the "Star-Spangled Banner" is sure to red, white and blow your mind! So, even if you're not a sports fan, it will probably be worth tuning in for at least the beginning of the show.

The game airs on Fox tonight at 5:15 PT.
And for a little nostalgia, here's a video of Mr. Bungle playing at a Eureka High School talent show in 1985: