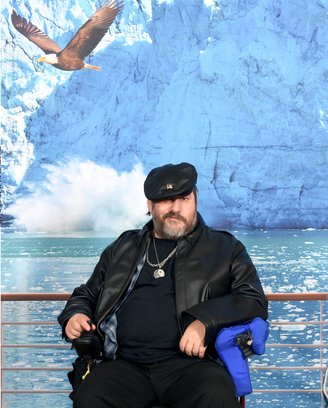 Javier (Xavier) Morales's life ended here on earth and he started his new journey up the Stairway to Heaven on January 7, 2019 due to heart failure.

On January 18, 1960, Javier was born to Maria and Felix Morales in San Francisco. He was the seventh out of eight siblings. His adventurous spirit stuck out to his family, and soon he was riding motorcycles in the hills of SF. He made heartwarming bonds with some of his closest, lifelong friends during this time. When he moved to San Jose in his teenage years, he would regularly ride his motorcycle back to see them. Eventually only riding a few hours wasn't enough for him, and he'd take his motorcycle across the country, and even into Canada, on numerous, solo motorcycle trips. He was a rocker and enjoyed his young life seeing some legendary bands like Pink Floyd, Metallica, and AC/DC.

Throughout his years, he moved up and down the golden coast of California. Eventually he settled down in McKinleyville with his soulmate and wife, Kendra. They raised two daughters, Maria and Virginia, in this small town veiled behind the emerald, redwood curtain. He was in love with nature, and a majority of his life he worked for national and state parks. His thirst for helping others and working daring jobs started first as he worked for Calfire, then ultimately becoming a peace officer park ranger. His main career was at Patrick's Point State Park, until he had a stroke in June of 2012.

This didn't hinder his courageous spirit and he aspired to go back to college and get his law degree. He had vast plans for the future, and being wheelchair bound wasn't going to stop him there. To him, God put him in that chair because he'd be too great without it. He was in pursuit of this degree until the day he passed onto his next venture.

He leaves behind his sisters, Adriana, Beatriz, Marcella, and Laura, and his brothers, Felix, Fernando, and Manuel. His family never stopped growing and his heart was full of love for his many sister in laws, brother in laws, nieces, nephews, great nieces, and great nephews.

He was the most dedicated father to his two daughters, Maria Christ and Virginia Oliveria. He helped shape them into the strong women they are today. He continues to love them, and they can feel him there, continuing to protect them like he'd always done their entire lives. He gained two sons, Scott Christ and William Oliveria, and loved them like his own. Bonding with Scott over their love for nature, and with Will with their love for rock 'n' roll. His love for his wife and soulmate, Kendra Morales, lives on to this day. He was looking forward to celebrating their 25-year anniversary in May of 2019. She was his best friend and knew him like no other person ever could.

His celebration of life will be held at Azalea Hall at 1620 Pickett Road in McKinleyville on January 19, 2019 from 2:30 p.m. to 5:30 p.m. If you'd like to bring food for this event, you're welcome to bring it at 2 p.m. His family and friends who were blessed to know him are encouraged to come celebrate his audacious, happy, and fulfilling life.
###
The obituary above was submitted on behalf of Javier Morales's family. The Lost Coast Outpost runs obituaries of Humboldt County residents at no charge. See guidelines here.