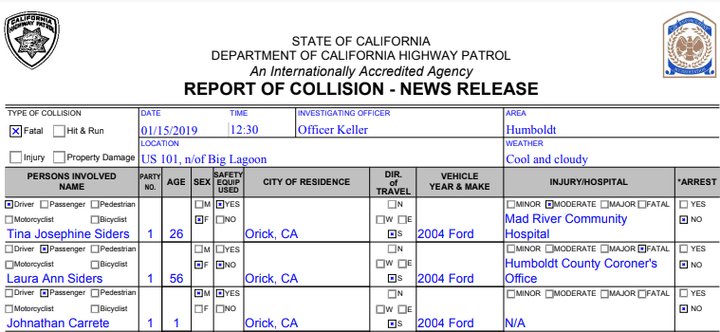 California Highway Patrol press release:

On the afternoon of Tuesday, January 15, 2019, a vehicle drove off US 101, north of Big Lagoon resulting in fatal injuries.

At approximately 1230 hours, 26 year old Tina Josephine Siders of Orick was driving a 2004 Ford Expedition southbound on US 101, north of Big Lagoon. For unknown reasons while negotiating a left hand curve she allowed the Ford to drift onto the west shoulder. She overcorrected by making a hard turn to the left which caused the vehicle to enter the opposing northbound lane. She overcorrected again and turned the Ford hard to the right. The Ford left the roadway and drove down the embankment where it overturned several times until it came to rest at the bottom near the shoreline. One passenger was ejected from the Ford and was later pronounced deceased.

A nearby boater, observed the collision and he rescued Tina Siders and the young child from the water's edge. Mrs. Siders and her young son were then transported to the Big Lagoon Boat Launch. At the boat launch, the ambulance took over primary medical care and eventually transported them to Mad River Community Hospital for additional medical attention. Alcohol is not considered a factor in this collision.

The California Highway Patrol would like to thank all that assisted with this investigation including but not limited to the Orick Volunteer Fire Department, Orick Volunteer Ambulance, CAL FIRE, Arcata-Mad River Ambulance and the Humboldt County Coroner's Office.

The California Highway Patrol Humboldt Area is continuing its investigation into this collision and is asking anyone with additional information to contact the Humboldt Area CHP Office at 707-822-5981 or to send an email to humboldt_area.humboldt_area@chp.ca.gov.