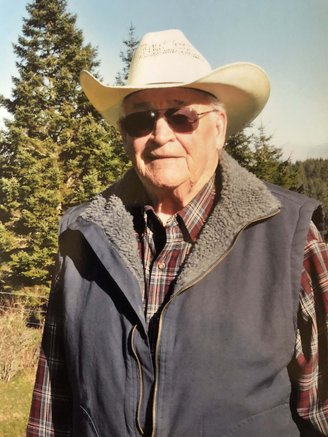 Joseph Russ IV passed away peacefully at home surrounded by family on January 12, 2019. He was born July 25, 1936, to Joseph and Annette Russ III. Joe was the fourth generation of an early pioneering family that dates back to the 1850s with an expansive agricultural heritage. He was a passionate spokesperson for the California livestock and timber industries.

Joe was in the last graduating class of the one-room Capetown Elementary School. He went on to Ferndale High School, graduating in 1953 at the age of 16. He was elected the California State FFA President in 1954 and then attended UC Davis for two years before transferring to UC Berkeley where he graduated with a degree in business administration. He loved his years playing rugby for Cal. After graduating from Cal, Joe enlisted in the U.S. Marine Corp and was assigned to a helicopter squadron and was the Honorman of his platoon.
Early in 1962, Joe, his brother Jack, and Phil Branstetter went to the California Ram Sale at Cal Expo. There, he was very fortunate to meet the love of his live and devoted partner, Miss Karen Lane from Clements, California. Joe and Karen were married in 1963 at Mission San Carlos in Monterey.
Joe and Karen began their lives together at the Bunker Hill Ranch, where they ran sheep and cattle. He was chosen to be in Class I of the first Ag Leadership Program and forever recognized the need to advocate on behalf of landowners to protect private property rights. In addition to the Bunker Hill Ranch, Joe, his father and brother Jack, shared many fond memories running various ranches in Humboldt County and later in Modoc and Shasta Counties.
Joe was passionate about the need for producers to take an active and involved interest in both the political and regulatory environment. He served in a variety of positions locally as well as at the state and national level. Locally, this included twenty years of service on the planning commission, president of the Humboldt Del-Norte Cattleman's Association, Farm Bureau and Woolgrowers. At the state level, his service included president of the state Woolgrowers, board member of the California State Board of Forestry, as well as the state Chamber of Commerce and the California State Fair Association. He worked with numerous governors over the years, with the highlight being chairman for Ronald Reagan's Northern California gubernatorial campaign. In addition, he was chosen as a delegate to the Republican National Convention several times.
He received numerous awards and recognition for his service to the agricultural industry as well as for stewardship of his own operations. This included being named California Livestock Man of the Year, following in the footsteps of both his father, Joseph Russ III, and his father-in-law, Kenny Lane. Locally, he was recognized with the Buckeye Stewardship Award and Humboldt CRP Lifetime Achievement Award.
Joe was a founding member of the Stockmens Bank of Commerce, the Buckeye Association and California Rangeland Trust. Joe was instrumental in the drafting and subsequent implementation of the Williamson Act, which governs agricultural property tax rates in the State of California.
Even with his accomplishments, Joe was most proud of his 55 years of marriage to his wife and partner, Karen, their three children, Renee Jackson, Kathy Christiansen, and Lane Russ, and their families. All three children have followed in his footsteps and are actively involved in production agriculture.
Joe was preceded in death by his father, Joseph Russ III, his mother, Annette Russ, and his brother, Jack Russ. He is survived by his wife, Karen, his three children, Renee, Kathy and Lane, his eight grandchildren – Danielle Sayler, Jessica Jackson and Russ Jackson; Rachael, Rebecca and Regan Russ; and Garrett and Clara Christiansen – as well as his sister-in-law, Linda Russ, niece, Sarah Soloaga, nephew, Jay Russ, and their families. Joe especially enjoyed watching his grandkids compete in high school rodeo, basketball, baseball and soccer.
Special thanks to Hospice of Humboldt and Dianna Jacobs for the amazing care and support.
In lieu of flowers, any donations should be made to the California Rangeland Trust (916-444-2096), the Pacific Legal Foundation (916-419-7111) or any local Future Farmers of America Program.
Services will be as follows: There will be a viewing from 5 p.m. to 7 p.m., followed by a rosary at 7 p.m. on Tuesday, January 22, 2019, at the Chuch of the Assumption in Ferndale. On Wednesday January 23, 2019, at 1 p.m., there will be a Funeral Mass at the Church of the Assumption in Ferndale followed by a reception at the Ferndale Community Center from 2 p.m. to 5 p.m.
###
The obituary above was submitted on behalf of Joe Russ' family. The Lost Coast Outpost runs obituaries of Humboldt County residents at no charge. See guidelines here.