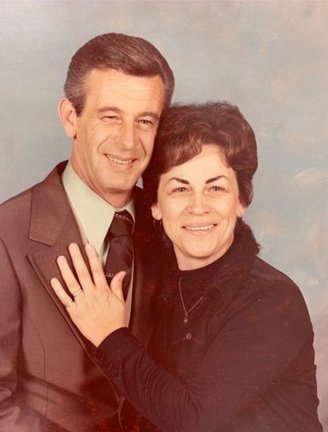 On June 15, 2011 Jerry John Snider, loving husband and father, passed away at the age of 74 from lung cancer in Arcata.

On December 5, 2018 Rosa Lee Snider (Ownbey), loving wife and mother, passed away at the age of 81 from heart failure in Eureka.
Jerry was born on March 7, 1937 in Oakland to Clara Williamson and Virgil Snider. Rose was born on September 5, 1937 in Tulare to DJ Ownbey and Cora May Trull. Rose and Jerry were married for 54 years. They were dedicated to their family and each other. They had a beautiful life together. They raised four daughters and lived in Arcata for over 50 years in the same Sunny Brae house.
In their early years Rose bowled in the E&O ladies leagues, loved baseball and played on many teams, and was very successful at selling enormous amounts of Tupperware. She was promoted as a Tupperware manager, attended conventions and was gifted a car. She was also known for her famous homemade fudge, picking the bass at church worship and her love for Jesus. Jerry had a long term trucking career. He retired from UPS after decades of service. He enjoyed working with his hands. He was very creative and had a natural eye for design. He built race cars to race at the drag strip and created many beautiful items from his woodworking shop in their garage. Their home was his personal display case for his mastery. He could build anything he set his mind to.
Family activities were extended stays at Trinity Lake. They owned a speed boat and loved to waterski with family and friends. Drag racing was a family affair too. It ran in Rose's blood, as her mother was well known at the Samoa Drag Strip for her '69 pink Corvette. They both had a natural liking for racing and fast cars. In their later years they enjoyed many grandchildren. They were blessed with a large family. They were die-hard San Francisco 49ers fans. Jerry wore his red and gold with pride. Rose was well known for her daily shopping trip to Murphy's Market in Sunny Brae to get dinner fixings. They loved going to pick out new rings for Rose as she loved jewelry and he loved buying it for his wife. They are both deeply missed.
Jerry and Rose are preceded in death by their parents, daughter Guylla Pierson, sister Judy Johnson, and brothers Tom Anderson and Gail Ownbey. They are survived by their three daughters, Lila Rasmussen, Theresa Surbaugh, and Jerri Jean Marsh, sisters Barbara Green, Sue Anderson and Kathleen O'Quinn, brothers Myron Ownbey, Charles Anderson, Andrew Anderson and all their respective families.
Please join us for their celebration of life on Saturday, January 19, 2019 at EUREKA The Pentecostal Church at 1060 Hoover Street, Eureka at 1 p.m.
###
The obituary above was submitted on behalf of Rosa Snider's family. The Lost Coast Outpost runs obituaries of Humboldt County residents at no charge. See guidelines here.