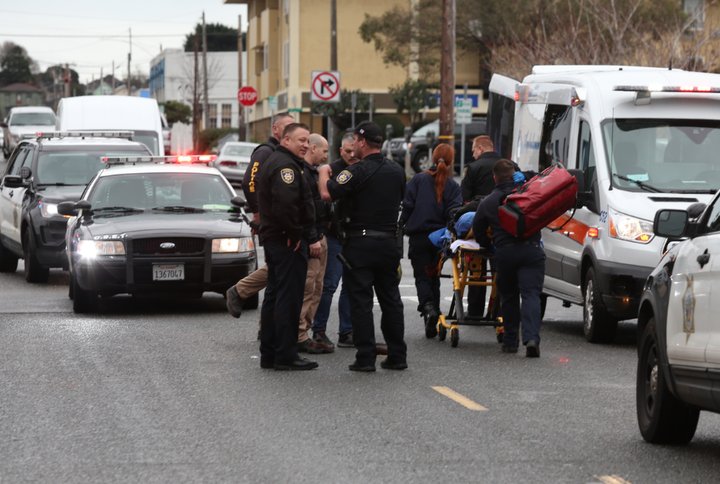 One man's brazen attempt to steal a Eureka Police Officer's squad car ended not in an epic joy ride but instead with a trip to the hospital after the vehicle rolled over his lower half.

Chief Steve Watson was among the many EPD personnel in Old Town for today's Eureka Women's March when he heard a call signaling commotion only a few blocks away. A little before 2 p.m. Watson told the Outpost that his officers were conducting outreach with a crowd of local homeless who'd gathered under an awning at the corner of Fourth and D streets when a man ran up to the officer's patrol car, jumped in the driver's seat and attempted a hasty getaway.
"He was trying to steal a car right in front of the cops," Watson said. "So luckily one of our officers, [Brian Ross], was able to run over there, get the door open, reach through and get a hold of the guy right when he was getting ready to gun it and take off."
The officer was able to wrestle the man to the ground. But while he was placing handcuffs on the suspect, the patrol car rolled over the suspect's feet or legs.
An ambulance was called to the scene to transport the man to the hospital for evaluation. Watson said it didn't appear as though the man's injuries were too serious.
The man was placed under arrest for attempting to steal a police vehicle. Watson praised the quick thinking of his officers in apprehending the suspect. The situation could have ended a lot worse.
"They were a split second away from this guy taking off in a marked, fully equipped police car and doing who knows what," Watson said.