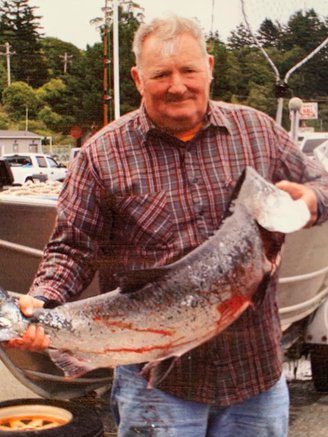 Michael Reed Earhart would like to let you know that his work here is done. He received a call for an offer he cannot refuse, for an appointment from which he will not be returning. His new voyage takes him to a wonderful place, where he will be fishing for the "big one" for eternity.

Michael passed away January 8 at the age of 73 at his home of 25 years in the presence of his family.
Born October 3, 1945, in Pasadena to David and Jean Earhart, Michael, the oldest of three, had a colorful childhood growing up with his two brothers, spending many summers on a beach in Mexico.
Michael graduated from Baldwin Park High School in 1963. He then proudly enlisted and served in the Marine Corps as a cryptographer , and was stationed in Vietnam until 1965, where he made rank of corporal (E-4).
Michael then went to Cal Poly for two years to become a Spanish interpreter. After many endeavors, such as becoming an L.A. County Sheriff's Deputy and owning a pool company, Michael moved to Eureka, became a technician and then a manager in the field of telecommunications, where he made many friends throughout his long 25-year career.
Michael is survived by his wife of 50 years, Jean Earhart, son Michael and his brothers Steve and Blake Earhart.
Three of Michael's favorite sayings were, "never say no to free money," "Never look in another man's pockets" and "Why be a grunt with nothing but a rifle when you can have skills and be of value?" Oh … and if he called you a "DCS" you knew exactly what he meant and you also knew it was a term of endearment.
He lived and worked outdoors for decades, and the man never owned anything even remotely close to a raincoat.
He was full of pride, but never too proud to do whatever it took to provide for his family.
Michael was a strong kind and courageous man. He will be greatly missed by all.
His celebration of life will be held at the Moose Lodge,4328 Campton Rd., Eureka, January 26 at 12 p.m., followed by a gathering for all friends and family at the residence of Jim and Penelope McIntosh, 5138 Blackberry Lane, Eureka. Phone: 707-442-4148.
###
The obituary above was submitted on behalf of Mike Earhart's family. The Lost Coast Outpost runs obituaries of Humboldt County residents at no charge. See guidelines here.