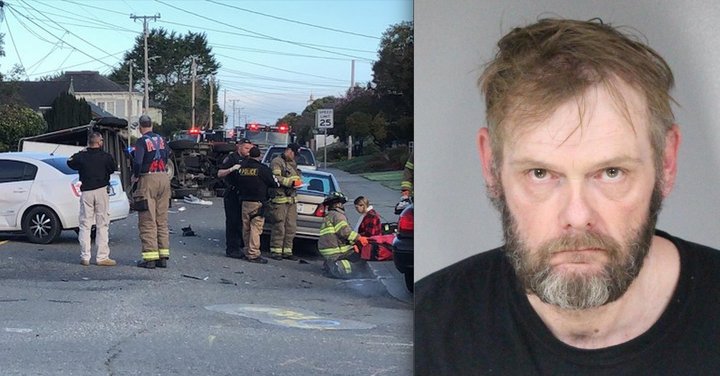 PREVIOUSLY: Wild Car Chase Through Eureka This Morning Ends With Crash; Two Taken Into Custody at Gunpoint
Humboldt County Sheriff's Office press release:

On January 31, 2019, at about 8:30 a.m., the Humboldt County Sheriff's Emergency Communications Center received a call from an Elk River resident regarding suspicious subjects a neighbor's home on the 7500 block of Elk River Court.

The caller told deputies that the he saw the subjects loading objects out of the residence and into a Blue Toyota 4Runner and an attached trailer. The caller began following the vehicle after it left the residence and contacted the Sheriff's Office.

Humboldt County Sheriff's deputies located the vehicle driving in the Cutten area on Campton Road. Deputies attempted a traffic stop on the vehicle. The vehicle failed to yield and continued through the City of Eureka in excess of posted speed limits. Deputies pursued the vehicle for approximately 10 minutes. During this time, the vehicle was involved in a traffic collision near the intersection of Harris Street and Harrison Avenue. There were no reported injuries associated with this collision. The vehicle continued westbound on Harris Street and the pursuit was terminated due to the safety of others on the roadway.

Deputies continued to follow the suspect vehicle at a safe distance and requested the assistance of the Eureka Police Department and the California Highway Patrol. Eureka Police officers strategically placed throughout the city observed the suspect vehicle traveling northbound on F Street. Eureka Police officers deployed a spike strip at the intersection of F Street and Carson Street in an attempt to demobilize the vehicle. The vehicle encountered the strip but continued on F Street. The suspect vehicle then collided with an occupied vehicle at the intersection of F Street and 14th Street. The suspect vehicle was not being pursued by officers at the time of this collision.

Two subjects were extricated from the suspect vehicle and were detained without incident. A female victim, whose vehicle was struck by the suspect's vehicle, was transported to a local hospital with moderate injuries. Following further investigation, deputies found that the trailer being towed by the suspect's vehicle had been reported stolen out of the Carlotta area.

The driver of the vehicle, 44-year-old Arthur John Howatt Jr., was arrested and booked into the Humboldt County Correctional Facility on charges of burglary, possession of a stolen vehicle, evading a peace officer, Post Release Community Supervision violation and revocation of Post Release Community Supervision. The Eureka Police Department will be requesting additional charges of felony DUI and reckless driving causing injury following investigation into the injury traffic collision.

The passenger of the vehicle was questioned and released at the scene.

The Humboldt County Sheriff's Office would like to thank the Eureka Police Department and the California Highway Patrol for their assistance in the apprehension of Howatt and the resulting investigation.