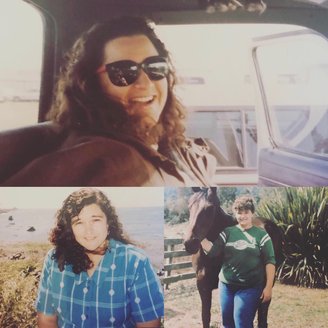 Tuesday Lee Peterson, age 54, a much loved wife, mother, daughter, sister and friend to everyone, passed away on December 30, 2018 at Mercy Medical Center in Redding, California after a six-year battle with carcinoid cancer, with her family and friends present.

Tuesday was born April 28, 1964 in Eureka, California to Tim and Penny (Fales) Warlick. Tuesday attended Freshwater Elementary School, Winship Junior High, where she was an honor student and graduated Eureka High School in 1982. Tuesday and her sister spent most of their childhood and teenage years growing up with her grandparents, George (Breezy) and Marion (Stapp) Fales. Tuesday's grandparents had a passion for horses and made sure Tuesday had her first pony by the age of 3, which led to a lifetime passion for horses.
Tuesday spent summers and fall at the Chipstrom family homestead on the Mad River where she hunted, fished, swam in the Mad River, horseback rode and raised a vegetable garden. Her Uncle Dan Fales made sure she was never left out and always had a ride to go hunting, fishing and razor clamming.
Through her high school years Tuesday was active in FFA and received the Star Green Hand Award and sold champion animals. Her best sale was a Holstein heifer, of which a couple local dairy ranches had a bidding war over.
Growing up Tuesday had numerous jobs, one of her first was moving irrigation pipe in the Arcata bottoms for ranchers and dairy farmers. After high School Tuesday and a friend started a horse hauling business, Warmack Ranch Transportation, in Northern Oregon, hauling horses for people all over the western United States. After selling their business, Tuesday went to work for Kiewit Pacific Construction in the Mount Hood area working as an equipment operator on several large construction projects. Following this she went to work for Oregon Department of Transportation Maintaince Division at Government Camp running motor grader, snow blower, loader, dump trucks, etc. in the Mount Hood area. In the January 10, 1991, Oregonian newspaper, the paper published a full page profile on Tuesday being a snow plow driver in the Mount Hood area. On the weekends she spent time working for the local ranchers working cattle and training horses.
During this time Tuesday purchased her first home in Pine Grove, Oregon.
In the fall of 1991 Tuesday got re-acquainted with an old friend, Jeff Peterson. The two moved in together and during this time she was a log truck driver and then an equipment operator for Stimpel-Wiebelhaus Associates and RGW Construction. In 1994 Tuesday and Jeff were married.
Tuesday and Jeff purchased from Tuesday's grandmother's brother and his wife, Ellis and Betty Stapp, property that her great-grandfather's brother homesteaded in 1914. This property was one of the last homesteads granted in Humboldt County to Guy Albert Stapp (Camp GAS) on Holmridge. Tuesday and Jeff spent as much time as possible there, hunting, fishing, swimming in the Mad River, horseback riding and partying.
Tuesday enjoyed annual pack trips with horses and mules into the Trinity Alps, Yolla Bolly Wilderness area, Marble Mountains, Russian Lakes with family and friends.
Tuesday's biggest passion in life was being a mother to her children, three son — Ridge, Ford and Bryce.
Time spent with her children was priceless. She showed them how to work hard, pursue their dreams, how to hunt, fish, ride horses and cook. She was the best Mother anyone could ask for, tough when she needed to be, yet loving and caring. She was their biggest advocate and mentor.
At their cabin, Tuesday built the boys a tree house and on the trail to tree house, she put up a bear crossing sign along with a zip line and a swing that would extend out 40 feet over the bank. Tuesday was active as a homeroom mom during their elementary school years, team mom on all their baseball teams and secretary/treasurer on the Anderson Aqua Gators swimming team, where the boys swam competitively.
Tuesday got her general contractors license and in 2004 she started TL Peterson, Inc. Tuesday realized early on as a business owner you never have a day off. Through her persistence and seven-day-a-week work ethic, TL Peterson, Inc., has become the successful general engineering construction firm it is today.
Tuesday's commitment, dependability, commitment to safety and consistent quality of work with agencies such as Federal Hwy Administration, US Army corps of Engineers, US Bureau of Reclamation, Bureau of Land Management, and National Park Service in California, Oregon, Washington, Idaho and Nevada awarded her recognition as the 2012 SBA Sacramento District Contractor of the Year. A plaque and letter of recognition was presented to her by then congressman, Wally Herger, at the 2012 Small Business conference in Sacramento, California.
Tuesday is survived by her husband of nearly 25 years, Jeffrey Peterson of Red Bluff; Sons Ridge of Chico, Ford of Eureka, and Bryce of Red Bluff; father Tim Warlick and stepmother Rayetta Warlick of Bayside; stepmother Shirley Peterson; sister Polly(Warlick) Hyrn of Laguna Beach; stepsisters Theresa Laidlaw and husband Ed of Fieldbrook; Lana of Roseville, Debbie of Eureka, and sister-in-law Debbie Dulay & Husband Dennis of Carmichael; brother-in-law Eric Peterson & wife Jennifer of Fresno; Numerous Aunts, Uncles, Cousins, Nieces, and Nephews. Five horses and three dogs. She was preceded in death by her mother, Penny Lou Fales, grandparents Sidney Melvin (Slick), and Faith Warlick, George (Breezy) Lewis and Marian Fales; Uncles Dan Fales; Roger Warlick; Greg Ornelas; father-in-law Herbert A Peterson; brother-in-law Jeff Lendahl; special friends Suzanne Kruger, Ernie Whitcomb, Steve Rodke and Ellis and Betty Stapp;
The family would like to thank the staff of Dr. Bergsland and Dr. Nakakura at UCSF, San Francisco, hospital staff at Saint Elizabeth Hospital in Red Bluff, and Mercy Medical Center in Redding. Additional they would like to thank the friends and family who comforted Tuesday during the last few weeks of her life. Special thanks to Andrea Strege, Zizi Ukestad, Theresa Machado Woody and her Father Tim and Stepmother Rayetta.
A Celebration of Life will be held at the Sequoia Conference Center, 901 Myrtle Ave, Eureka on Sunday, February 10, 2019 from 11:00 a.m. to 3:00 p.m.
In lieu of flowers, memorial contributions may be made to The American Cancer Society. Tuesday was a life member of the NRA and California Rifle and Pistol Association. Also on Tuesday's behalf please make a personal donation to your tack room, tackle box or gun collection.
###
The obituary above was submitted on behalf of Tuesday Peterson's family. The Lost Coast Outpost runs obituaries of Humboldt County residents at no charge. See guidelines here.