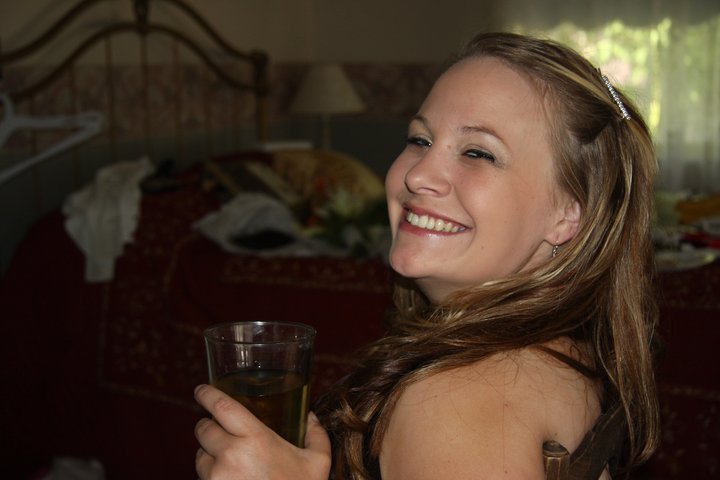 Heidi D. Deskins
8/26/85 - 6/11/19
Heidi went to be with her Lord and Savior on June 11, 2019. Heidi was born August 26, 1985 to David and Kathy Deskins in Eureka, joining her sister Kelli to complete their family's "D" Unit, as they so often call it.
Our beautiful girl was so special and had a sparkle like no other. She was charismatic and for those who knew her, she was such a joy to be around as she was sure to lift your spirits. Heidi's smile could brighten a room and she had a sense of humor that could bring cheer to anyone around. She was bubbly, silly, happy, and sincere. Heidi often referred to herself as "a good time" to those who doubted her ability to have fun. To her family and loved ones, she was known as Heidi Ho, Hotes or Lamb-y Pie, as her Grandma affectionately called her when she was a child.
In 2007, Heidi met Brent and they began their lives together. They were blessed in 2010 with the birth of their daughter, Malania, and in 2016 the birth of their son, Carson. Heidi loved going to the beach and taking hikes at Trinidad Head with Brent and the kids. She also enjoyed watching Malania play soccer and serving as her Girl Scout Brownie Troop Leader. Carson was very entertaining to Heidi as she got a kick out of watching him grow and discover new things.
She cherished sharing laughter with her children and spending time with them camping or going to the family cabin. She looked forward to Easter and Halloween at her Aunt Lynda's house. Thank you Lynda and Robin for our special Easter this year.
She loved to travel. She was healthy enough to take a trip to Europe in October 2018 with her cherished friend Kathryn. They had a great time, just the two of them. Thank you, Kathryn. She loved animals, a good meal (especially her Mama's cooking), and spending time with her friends.
Heidi attended Grant Elementary, Winship Junior High and graduated from Eureka Senior High School in 2003. Heidi's free spirit led her on many career paths, where she always gave her best. In 2013, she found her niche and became a licensed California Insurance Agent. She soon went to work for Harbers Insurance Agency in Fortuna , where she loved her career and colleagues.
In 2014, Heidi became involved with the California Cancer Crushers, a local non-profit group focused on supporting those battling cancer. It fueled Heidi's soul to help others. One of the things that drew Heidi to participate is their support for St. Jude's Children's Hospital, an organization that Heidi dearly loved. Heidi looked forward each year to the Wings for a Cure event and often referred to it as "her event." She quickly became good friends with Julie, Karen, Moria, Rosie and Tera. They refer to themselves as her "Tribe". These girls have touched our hearts deeply with their thoughtful attention and selfless deeds for Heidi and continuing support to our family. They are true friends indeed. We love you all.
Heidi currently served as Vice-Chair of the Board of Directors for California Cancer Crushers.
In April 2017, Heidi was in for a fight of her own as she was diagnosed with stage four bladder cancer. She was very brave throughout her many chemo treatments, numerous surgeries and procedures. Heidi could always be seen with a smile, grin and giving a snide remark despite her illness. On her last of many trips to San Francisco for treatment, she was sent home under the care of Hospice of Humboldt on December 29, 2018. Heidi was blessed with a magnificent hospice care team which she truly adored. The family would like to especially thank Kiona, Sarah, Julia and Coral for the countless hours they assisted. Heidi's family felt embraced by the care, dedication and love from the entire team at Hospice of Humboldt.
Heidi was preceded in death by her Grandma Dixie and husband "Papa" Albert Cardoza; Grandpa Roger Nelson and Aunt Carol Champion.
Heidi is survived by her love and best friend Brent Moulton, children Malania and Carson Moulton; parents David and Kathy Deskins; sister Kelli Pacheco and her husband Dan; Cyndy Nelson (Aunt), Meghan and Matt (cousins); Alan Deskins (Uncle); Robin and Lynda Craig (Uncle and Aunt); Heather Omwake (cousin) and husband David and their children Kaely, Emily and John; Ryan Craig (cousin) and wife Molly and their daughter Addison; Dr. Allen Zwan and wife Kathy (Uncle and Aunt); David Zwan (cousin) and wife Marissa and their children Andreas and Sophia.
Heidi will also be missed by her longtime friends and those she loved so dearly. Nicole, aka her "bestest" since 6th grade. Kathryn, thank you for your love and generous friendship. Nike, Tabatha and Rosemary, thank you for your continuous love and support for Heidi. Heidi was a friend to many, the list could go on and on… She loved you all.
We would like to thank our family, friends, the California Cancer Crusher family, Brent's work family at Northwood Chevrolet and Heidi's work family at Harbers Insurance Agency for your generous acts of love and kindness during Heidi's illness.
Please join us to celebrate Heidi's life on July 20, 2019. Memorial service will be at Eureka First Baptist Church (Del Norte and E streets in Eureka) at 3 p.m. Reception will immediately follow at the The Wharfinger Building — 1 Marina Way, Eureka.
In lieu of flowers, donations can be made in Heidi's name to California Cancer Crushers P.O. Box 3654 Eureka, CA 95502 or through their website at thecancercrusher.org. Donations can also be made to Hospice of Humboldt 3327 Timber Fall Ct., Eureka, CA, 95503.
###

The obituary above was submitted on behalf of Heidi Deskins' family. The Lost Coast Outpost runs obituaries of Humboldt County residents at no charge. See guidelines here.