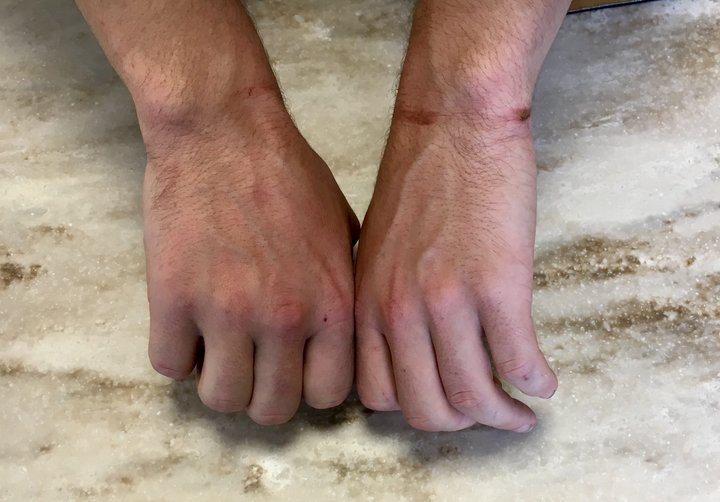 ###
PREVIOIUSLY:
###
It was like a horror story. Will Lawrence laid face down in the dirt, hands bound behind his back as an armed man pointed a shotgun at him. Another man bound his legs with zipties before leaving him in the darkness on a cool July night.
"I don't want to hear a fuckin' peep," the gunman snarled.
Time seemed to drag on and Lawrence laid there for what he guessed was about ten minutes as the armed robbers wandered through the property.
"After they ziptied me, they started walking around the storage units and told me to keep my face on the ground," Lawrence told the Outpost.
Lawrence was working as a security guard that night — something he does five days a week. However, most of his shifts happen during the daylight hours while working the front door at one of the dispensaries in Arcata. He only picked up the night shift to make a little extra "pocket money," he said.
Lawrence said he has worked this property before but had not been there in about a year. His night started like many other ones: As soon as he arrived he walked the property checking the doors and entrances to the buildings and shipping containers. Lawrence was unarmed and said making himself visible is the main thing he does.
"When I work this particular security gig, I like to hang out with all of my [car] windows open and do a lot of laps," Lawrence said. "Presence is the whole thing."
Things started to go south for Lawrence at around 1 a.m. It was about halfway through his shift and he started thinking about eating the lunch he packed that night. He decided to move his vehicle — a silver Acura MDX — to the southeast corner of the property. Lawrence said he was sitting in his car when he heard a couple of sticks break.
"I thought to myself, 'There are only two things that break sticks, deer and people, and I don't think there are any deer out here right now,'" Lawrence said.
He got out of his vehicle and made his way toward the sound. Lawrence peered into the darkness and used his flashlight to guide his vision. He started to make out what appeared to be a black lump amongst the tall grass. He threw sticks at the dark mass and it "wiggled just the tiniest bit," he said. Lawrence soon realized it was a person and yelled again for them to "get the hell out of here." He bent down to pick up another stick to throw and heard a rustle.
"When I looked up there was a man with a shotgun in front of me," Lawrence said. "I thought, 'I know where this is going.'"
So Lawrence put his hands behind his back. A man with a gray sweatshirt trained the shotgun on Lawrence as the other snuggly ziptied his hands together, palms facing out. Next, Lawrence was ordered to the ground, where his feet were bound together. While laying on the ground, Lawrence heard the two men rummaging throughout the property for about 10 minutes. When they came back, the man with the shotgun ordered Lawrence to his feet.
"I tend to stay pretty cool and I was like, 'What do you want me to do right now guys? You ziptied my feet,'" Lawrence said.
Lawrence never got a good look at either of the men's faces. The man with the shotgun wore a gray sweatshirt that seemed to be on backwards with the hood flipped up and eye holes cut into it. The other wore a black sweatshirt and dark pants and was not nearly as high-strung as the man with the shotgun, he said. After the man in the black sweatshirt cut the zipties off of Lawrence's feet they moved him into an empty trailer.
"They stuffed me in there and then they locked it," Lawrence said. "Or they thought they locked it."
At the beginning of his shift Lawrence noticed that the side door of the trailer happened to be unlocked. He quietly waited in the trailer as he heard the masked men move throughout the property. After a while, Lawrence heard a third man show up and ask the others, "Oh we got somebody in there, huh?"
An hour or two passed as Lawrence sat in complete darkness. He eventually heard what he thought were two trucks leave the property. He heard a loud V8 engine with a "really loud rod knock" and another that sounded like a diesel.
"They took my cell phone out of my pocket, they took my pocket knife, and they took my wallet," Lawrence said. "They also left with my car, those god-damned bastards."
As the quiet settled back in once the robbers left, Lawrence's left hand started to go numb. He had been working at getting free while sitting in the dark and once he did he was able to walk about six blocks to a nearby Renner gas station. It was 4:12 a.m. when Arcata Police received the call from Lawrence.
In a previous interview with the Outpost, Arcata Police Chief Brian Ahearn said the robbers were able to access a storage unit where an "undetermined amount of cannabis was stolen." Ahearn said there were two other notable marijuana-related crimes in Arcata this year. One was a burglary where the suspects were able to rip off security bars protecting a window, break the window and steal some edibles. During the other incident the suspects stole some weed from a building but dropped some on their way out. One of the suspects returned the next day to retrieve the dropped stash and someone was able to notify APD and an arrest was made. Despite recent events, Ahearn said there is not a lot of marijuana-related crime in Arcata.
"It is a safe industry and those operating permitted companies are working closely with Arcata Police to implement security plans," Ahearn recently told the Outpost.
Ahearn said he looks at the cannabis industry just like any other. It is legally permitted and subject to the same problems that other businesses face.
"It is a business and anytime you have inventory it is always possible for someone to commit a theft," Ahearn said. "They are just like any other business in terms of potential exposure to have thefts occur."
There are a handful of security companies throughout Humboldt County whose main mission is to protect cannabis. One of the guards for those companies is a man named Daniel. (The Outpost is withholding Daniel's last name and the company he works for at his request.) Daniel is a former Marine and found his way to Humboldt a few years ago to study engineering at HSU.
Unlike Lawrence, Daniel is armed at work. He carries a .40 caliber Smith and Wesson Shield and works properties all throughout Humboldt — from Willow Creek all the way down to the heart of the weed fields in Southern Humboldt. Daniel said the first thing he does when he gets to a site is similar to what Lawrence does.
"As soon as you get on [a site] you have to clear everything, you check all the rooms, the doors and even the port-a-potties," Daniel said. "But what you don't want to do is to have the same schedule. It is kind of hard not to do because you get into a routine, but you want to go on patrols."
Daniel patrols his sites every one to two hours and he works everything from small processing facilities to grows that have around 15 greenhouses. His company installs motion sensors on the sites that alert Daniel when something is moving in a certain area. He checks the sensors every shift to ensure they are working and rotates them to new areas from time to time.
"It is scary. No one is there; it is only you," Daniel said. "It puts stress on us because we are the only [person] out there all night long. The motion sensors put your mind at rest."
Daniel said on his patrols he checks out the buds and notices when they are nearing full maturity. He said harvest time is the most stressful time of the year and it puts him on high alert.
To help deter possible theft Daniel said his uniforms look similar to a police officer's. He wears a bulletproof vest and a holstered firearm on his hip. He said he likes the work and is grateful for the opportunities the cannabis industry has opened up for veterans.
"I'm thankful for the grows now that this job is even possible," Daniel said. "Where would veterans work up in Humboldt? It is a good outlet and it gives people with my background a job. It is pretty surreal."
Lawrence eventually got his car back, but not in the shape he wanted. His only wish was for it to not be set on fire, and it wasn't. However, it was pretty much gutted. The vehicle was abandoned at a run-down property in Samoa. Missing from it were the tires and the battery. The dash was ripped out, the gas tank punctured and drained. The robbers even stole Lawrence's kite, a present his mother got him for his 27th birthday. He never even got to fly it.