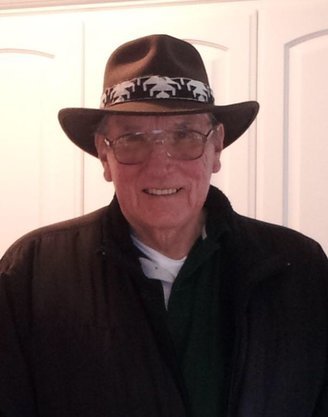 Darrell Eugene "Jimmy" Evenson (USMC) was born January 9, 1932 in Loleta. He lost his battle with cancer and passed peacefully from this earth, on his own terms, at home surrounded by family and loved ones on July 5, 2019, at the age of 87.

Jimmy served honorably as a United States Marine in the Korean War. Over the years Jimmy worked as an expert dynamite technician in Alaska, also working in Humboldt as a logger and fisherman. Jimmy loved the ocean, and we believe he truly felt free at sea.
He was a kind and generous man, always willing to help someone in need. Jimmy was the most intelligent, self-educated man most have ever met. Before there was Google, there was Jimmy Evenson. If you ever had a question about anything, Jimmy was the man to ask. Of all his wisdom, one lesson he stressed, "Don't hold grudges." Life is too short for hatred. Jimmy's most important role in life, came later when his grandchildren were born. He shared a special bond with his grandson Lance Corporal Austin Chase Evenson (USMC), whom he forged into the United States Marine he is today.
"Jimmy" Evenson was preceded in death by his mother Zelma McGuire (Wiyot Native); father Edgar "Slim" Evenson (Norwegian, Whaler); sisters Alice "Evenson" Hefte and Carol Ann Evenson. Brothers; Edgar "Moose" Evenson, Wallace "Benny" Evenson, Tommy Evenson, Harry Evenson, Charlie Evenson, Richard "Dickey" Evenson and Frankie Evenson; stepson, Vernon Duane Bussell lll (Babe); nephew John Hefte; nieces Tonya Evenson and Felicity Evenson.
Jimmy is survived by his life long companion and best friend, Mary Brown. (he was her rock!); his son Darrell "Raggs" Eugene Evenson Jr; grandson Lance Corporal Austin Chase Evenson (USMC); his sister Jovie Fischer and their mother Brandy Eskra; daughter-in-law Darcey Duncan and 'granddaughter' Rain Kline; daughter Teddi Ann Torres, husband Joe Torres and granddaughters Reesee, Becky, Serena and Kasandra; sisters-in-law Darlene Buckley, niece Angie Evenson, great niece Madison and husband Jake, Roxann, Nikki and Guy; niece Leslie Henry, husband Warren Henry and family; nephew Eric Hefte and family; nieces Tommie and Tammy Evenson; nephews Lil Tommy Evenson, Charlie "Chucky" Evenson, Wallace "Benji" Evenson, Frankie Evenson and Jason Evenson; good friends Dave Drake, Ronnie Fulton, Al Roderick, Leroy Brown, Tommy T, Tim Jordan, Gary Foster, Greg and Goobie Perry; and numerous nieces, nephews, cousins, extended family and friends.
We welcome family and friends to celebrate the life of Jimmy Evenson, Saturday, July 13 at 3 p.m. at Redwood Fields 2508 Fern Street, Eureka (Cutten).
###
The obituary above was submitted on behalf of Jimmy Evenson's family. The Lost Coast Outpost runs obituaries of Humboldt County residents at no charge. See guidelines here.