A coalition tackling opioid abuse in Del Norte County will use a $75,000 grant to come up with strategies and solutions to the problem.
Rx Safe Del Norte Coalition was one of four coalitions in the state to receive funding through Center for Care Innovations' Addiction Treatment Starts Here: Community Partnerships program.
The Oakland-based nonprofit launched the Addiction Treatment Starts Here program in May through a grant from the California Department of Health Care Services to address opioid use disorder. Other coalitions to take part include the San Diego Prescription Drug Abuse Task Force, Safe Rx Santa Cruz County and the San Benito County Opioid Task Force, according to a press release from Rx Safe Del Norte.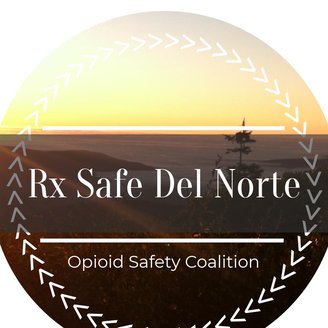 Rx Safe Del Norte facilitator Jermaine Brubaker said she found out about the Addiction Treatment Starts Here program through Aegis Treatment Centers. Aegis in working to open an addiction treatment clinic in Eureka, and provided money for the Del Norte coalition to find a trainer to teach people how to administer Naloxone to those suffering from an opioid overdose.
Since Aegis's grant dollars were tapering off, Rx Safe Del Norte had been searching for other funding to get them through September 2020, Brubaker said.
The Del Norte facilitator team includes Brubaker, Barbara Pfeifer with United Indian Health Services and Manuel Saavedra with College of the Redwoods. The Del Norte team recently came back from the program's first training session in Oakland.
"We're really trying to set goals," she said. "We're trying to vision a human-centered design. We wanted to do that anyway the grant the time was ripe and perfect for our community and where our group was at. We're super excited about it."
Shortly after meeting for the first time in March, Rx Safe Del Norte used California Department of Public Health dollars to obtain 300 doses of Naloxone, the drug that can block the effects of an opioid overdose. It created 140 kits with two doses each and trained people in Smith River, Klamath and Crescent City how to administer them.
Starting in late August or September, the coalition will use the Center for Care Innovations grant to conduct a series of public input sessions to ask the community, including those who have opioid use disorder, what strategies and solutions it should focus on next, Brubaker said.
"We're hoping to do six rounds where we are really looking to get the results of what is your view of the situation," she said, adding that this includes finding out what's going on in the life of an individual who suffers an overdose. "Sometimes amazing solutions come from random sources. We're hoping to hit the substance abuse disorder groups, the first responders' group. We want to go to the places already working on this a little bit."
Brubaker said Center for Care Innovations grant dollars will also fund three positions for those in the recovery community to get involved in combating opioid addiction in Del Norte. Brubaker said those working in these positions will receive a stipend. She noted that hearing from people who have experience with opioid abuse may make things more comfortable for those who are currently battling addiction.
Brubaker said she already has a candidate for one of those co-facilitator positions. This person has graduated from College of the Redwoods' addiction studies program, she said.
"I'm really excited about giving him some extra skills (for him) to make some change too," Brubaker said. "It's kind of like a mini internship in a way."
Though it's entering a new phase, Brubaker said Rx Safe Del Norte is still working on obtaining more Naloxone doses from the state.
"I want to have at least 1,000 more doses because I feel like a lot of our first responders need it," she said. "It's just another lifesaving thing to have in your hand."
Rx Safe Del Norte will meet from 1-3 p.m. Monday at Open Door Clinic, 550 E. Washington Blvd. in Crescent City. For more information, visit the organization's Facebook page or call (707) 957-0561.
###
Press release from Rx Safe Del Norte:
Center for Care Innovations is excited to announce our cohort for Addiction Treatment Starts Here: Community Partnerships program! The four

participating coalitions are Rx Safe Del Norte, San Diego Prescription Drug Abuse Task Force, SafeRx Santa Cruz County, and San Benito County Opioid Task Force. This program aims to strengthen coalitions to effectively prevent and treat OUD by making system-level changes through multi-sector collaboration in their communities. Each coalition will receive $75,000 in grant funding, training, and coaching to use systems practice and human-centered design methods to make change, in addition to peer support resources. This program is supported by a generous grant from the California Department of Health Care Services (DHCS).

"This is the first cohort under this funding, and our team is excited to be a part of this program," stated Jermaine Brubaker, the facilitator for Rx Safe Del Norte. "This is an opportunity for the coalition to do a deep dive into our local issues and come up with local solutions and strategies." The facilitator team consists of Brubaker, Barbara Pfeifer with UIHS, and Manuel Saavedra with College of the Redwoods. The team has attended the first training in Oakland, CA to learn new tools and techniques to bring back to the community.

The Rx Safe Del Norte team will be bringing on some additional co-facilitators from the recovery community to help with this project. "It is important to involve those with lived experience at many levels in the process," says Brubaker. "We also hope to increase the skills in all our facilitation team on how to create system level changes around complex issues." The project will start with community input over the next couple of months and will be wrapping up with some strategies by September 2020.

Rx Safe Del Norte is a local coalition whose mission is to engage the community in the prevention of Opioid Use Disorders (OUD), the reduction of stigma, and the promotion of treatment, recovery, and wellness. You attend the monthly meetings on the 3rd Monday from 1-3 pm at Open Door Community Health Center or contact RxSafeDelNorte@gmail.com or 707-957-0561