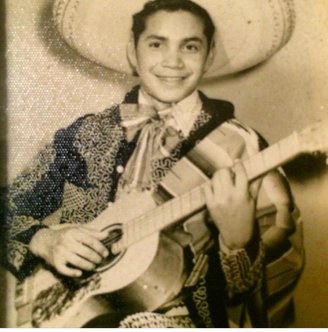 Ruben passed away peacefully Thursday, June 6, surrounded by his loving family.

Ruben was born in Guanajuato City, Mexico, where his father David worked as a mining engineer, in 1937. His mother, Otilia, and newborn sister died in childbirth two years later. His father then died of tuberculosis and Ruben became orphaned at the age of nine, along with his sister Gloria. He was left as the only support for his sister and aged grandmother. She however, died soon afterwards as well, leaving the children to the streets. Ruben overcame intense adversity and survived by employing his natural charm and daring to earn money at everything from guiding people through the mummy catacombs beneath Guanajuato City to diving for coins thrown overboard by wealthy tourists off the shores of Acapulco.
It was through these tourist connections that Ruben became sponsored to attend school in the United States, first in Salt Lake City Utah, where he once auditioned for the lead role in a movie adaptation of "Flight" by John Steinbeck (the movie was never made – but the photo here is a publicity photo from the project), then in Humboldt County at Eureka High School. Ruben loved his new life at Eureka High, made many cherished lifelong friends, and volunteered for everything from the cheerleading squad to the Key Club.
After graduating in 1958, Ruben attended Humboldt State College and the following year started a family. In 1960 he was drafted into the US Army, training as an Engineer. After military service, Ruben returned to Humboldt and worked for the Simpson Plywood Company. He then joined the local Carpenters Union in time to help rebuild bridges lost during the 1964 flood, in addition to helping build the Samoa Bridge.
It was during his carpenter years Ruben began volunteer fireman work after saving a neighbor's house from burning down with the help of a garden hose. He responded to fires from Arcata and Eureka to Ferndale and Fortuna – and sometimes used his beekeeping skills to capture beehives from homes marked for fire training. He was one of the pit barbecue masters at the Fortuna Rodeo for many years and he was an English/Spanish Translator for the Humboldt County Court system.
Ruben loved participating in the Kinetic Sculpture Race alongside long-time pal Hobart Brown. Certain nights he could be seen bartending at The Palace in Ferndale. When movie crews came into town to shoot films, he was always up to help them out with pit-barbecues or whatever else they needed. He had years of legendary pig hunts with friend Roger Rodoni and many others at the Rainbow Ranch. He was also a past President for the Ferndale Rotary where he was given the Paul Harris Award for most donations.
When not volunteering or helping some friend or stranger in distress, Ruben indulged his favorite pastimes – Giants baseball, 49ers football, deer hunting, fishing, clamming, surf fishing, abalone diving (without a wetsuit mostly), rock hunting, hat collecting or anything having to do with food.
Ruben leaves behind his longtime partner, Paula Gouley of Carlotta; his children: David Segura and wife Lena Park-Segura of Eureka, Carole Segura of Eureka, Addie Segura Dunaway and husband Mike Dunaway of Eureka; his grandchildren: Haley Weeks and husband Caleb Weeks of Lebanon, Oregon, Oliver Segura of Eureka, Kersten Bachman and wife Samantha Bachman of Eureka, Piers Bachman of Eureka, Michaela Gillette-Magallon of Eureka and husband Raymond Magallon (US Army) Arizona, Jade Segura-Smith of Portland, Oregon, Asa Segura Smith of Eureka; and great-grandchildren Zoey, Sophia and Warren Bachman of Eureka. He also leaves behind his sister Gloria Collins of Oregon and her children: Frank Collins, Marie Cervantes, Carolyne Collins, Charles Collins and Gloria Zeller.
Paula remembers Ruben as her best friend, teacher and hunter. They enjoyed cooking, gardening, chanterelle hunting, rock hunting and clamming. They have a dog, Wolf, who will miss him dearly.
Son David remembers the many hunting trips from Buck Buttes to Buck Mountain. Every trip was an adventure. "Pop was a natural hunter and had a knack of becoming one with environment. I was always amazed at his ability to identify every plant and animal." David also appreciated getting to know his dad more on these trips and witnessing his connections to the old school Humboldt community. "Every (however remote) part of Humboldt we went to, pop always knew somebody. He was always pulling off on some unmarked drive out in the middle of nowhere to visit some friendly old hermit that he knew from who knows where. They were always so excited to see pop –like he was family. More often than not — we would leave with a few jars of home canned delicacies or a bag of not-quite-ripe persimmons for us to eat on our trip."
His daughter Carole remembers gathering his papers for his citizenship application and then witnessing his swearing in ceremony by the head of INS. He was truly proud to become a US citizen. During Fortuna Rodeo weekend he would have her attend on her birthday, which always fell on the rodeo weekend. He made her think it was her birthday party with street bands and many of her friends attending to celebrate.
Daughter Addie will miss his regular phone calls during hunting season to check in and see if she got a buck— but mostly to remind her to save the "goodies" aka the heart and liver. During those calls he would always ask what was for dinner (always suggesting cooking tips and recipes) and she'll especially miss her favorite meal that he made for her birthday or when she was sick: nopalitos con camerones.
In memory of Ruben, we will have a celebration of life at the Ferndale Community Center, 100 Berding Street, Ferndale, CA, on July 27, 2019 at 2 p.m. Please bring your favorite appetizer to share.
In lieu of flowers please follow the link below to donate to Humboldt Area Foundation Scholarship program in honor of Ruben Segura. www.hafoundation.org (See menu>giving).
###
The obituary above was submitted on behalf of Ruben Segura's family. The Lost Coast Outpost runs obituaries of Humboldt County residents at no charge. See guidelines here.