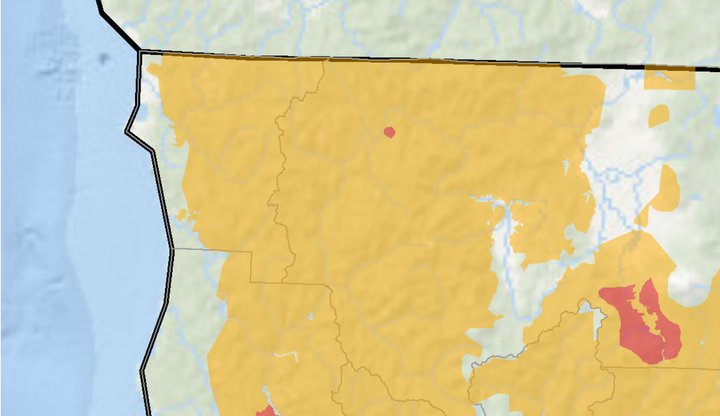 ###
Though cutting electricity for most Del Norte customers isn't part a Pacific Power plan to prevent wildfires, a handful of meters in the eastern portion of the county may be still be impacted by a public safety power shutoff.
In the wake of wildfires in Santa Rosa, California lawmakers passed Senate Bill 901 last year, requiring utilities to develop mitigation plans, including shutting off power to its customers in high fire-threat areas. Pacific Power is no exception, but according to Regional Business Manager Monte Mendenhall the regions the utility has designated as potential candidates for a power shutoff are primarily in Siskiyou County.
"Wildfire maps have been adopted by CALFIRE," Mendenhall said, adding that the state agency has designated Tier 3 fire-threat regions as areas where power shutoffs could occur. "Tier 3 areas are only included in parts of Siskiyou County, specifically Happy Camp and the I-5 corridor (from) Weed and just south of Dunsmuir."
Mendenhall said local residents may be confused by ads on the radio from Pacific Gas & Electric stating that public safety power shutoffs could be a possibility in both Tier 2 and Tier 3 areas. This possibility doesn't apply to Del Norte, he said.
Inland Del Norte County, which is part of Pacific Power's service area, is in a Tier 2 area, however under Pacific Power's fire prevention plan, the utility has accelerated inspections of its facilities and has increased vegetation management, according to Drew Hanson, the utility's senior communications representative.
The utility currently plans to upgrade faulty protection equipment, conduct additional inspections and have targeted power poles for replacement, Hanson said via email Tuesday.
"This fall, Pacific Power is scheduled to install spacer cable at three locations in the county, which benefits reliability and fire mitigation," he said.
The Del Norte County coast, including Crescent City, lies in the utility's Tier 1 area. According to Mendenhall, Pacific Power will continue its annual inspection and maintenance of facilities in the Tier 1 area, but isn't required to do additional maintenance. The coast is also "safe from a pro-active de-energization protocol," Mendenhall said.
However, de-energization could affect roughly 18 customers near the Collier Tunnel and the California-Oregon border receiving power from a circuit from O'Brien, Oregon serving U.S. 199, Hanson said. The potential for a public safety power shutoff in that area is rare, however, he said.
"Del Norte County officials have been notified, and Pacific Power continues to work closely with local and state agencies," Hanson said. "Public safety power shutoff areas could increase or decrease in number, potentially change in size or expand to other areas as Pacific Power further refines its robust wildfire mitigation plans."
According to County Administrative Officer Jay Sarina, there are a handful of homes in the area designated as a potential risk for de-energization. A public safety power shut-off could also affect call boxes and the Collier Tunnel Rest Area, though Caltrans has closed that facility for the summer, Sarina said.
In addition to requiring industrial utilities to come up with fire prevention plans, SB 901 called for spending $200 million a year over five years to clear trees and brush, making forests less fire-prone. The law created a five-member Commission on Catastrophic Wildfire Cost and Recovery, which decides whether utilities can pass costs onto customers.
SB 901 also makes it easier for power companies to absorb the cost of fire damages by borrowing money and charging customers to pay it back over many years, CalMatters reported in November 2018.
Pacific Power's has more information about the company's wildfire prevention measures at its website.