"Welcome to Redwood!" announced the attendant on my flight in from Denver two weeks ago. Shit, I thought, did I get on the wrong flight? Nope, it was all good. We were landing at ACV, now the "California Redwood Coast – Humboldt County Airport." Which means, in addition to checking the flight departure boards under A (Arcata) and E (Eureka), we're now going to have to check R (Redwood). I know, it's a small price to pay for flying over driving. Coulda been worse. Someone probably suggested Bigfoot for ACV, modeled after John Wayne for SNA or Ronald Reagan for DCA.
Truth is, I love our local airport. Parking right there, no shuttle buses, and first 30 minutes free. Or take the TSA staff—friendliest in the world. Yes, they'll still frown at your nail file and that 120 gram half-full tube of toothpaste, but compare them with the take-no-prisoners TSA crews at O'Hare or Dulles—you don't mess with those folks, no jokes, no nothing. Last time I flew out of ACV, I'd forgotten to take a little (two-inch blade) penknife out of my daypack. TSA caught it. No problem: "Did you check a bag?" "Yes." "Go back and ask them to put it in there." Which I did, ACV's United staff being unfailingly helpful.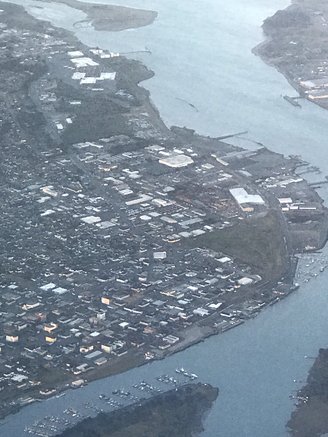 And I'm a fan of United Airlines. Living here, you've got to be, since the only flights in and out are United's San Francisco, LA and Denver runs. (Notice how they don't say, when you fly out of ACV—and as they do on most flights in the US, "We realize you have a choice of air carriers. Thank you for flying with us."—for good reason!) Because of United's generous sign up bonuses for Visa cards, I haven't paid for a trans-Atlantic flight in years, despite heading over to the other side of the pond on an annual basis. You can figure out all the deals for yourself—canceling before the annual fee becomes due, getting a business card, and all the rest—here, here and here.
Do it right and you'll also get a couple of United Club passes when they issue your Visa card. Airport airline clubs are the best things about flying, if your layover is more than a couple of hours or so. No stupid announcements. (Most of which are about TSA requirements—after you've come through security screening.) Free snacks…glass of wine or beer…decent wifi…phone recharge ports…WSJ…clean bathrooms. But no longer, sadly, showers. Or NYT.
(Actually the very best thing flying is when you're serendipitously switched to a class up from "cattle." Happened to me at two in the morning, once, flying from Delhi to London. I was late (due to a bad train connection from Agra), arriving breathless at the United ticket counter 30 minutes after the scheduled departure. Ganesha, the elephant-headed god of good luck, was on my side. "The flight is one hour late, sir," I was told, in that lovely clipped Indian-English dialect. Then, "I am sorry, sir, your seat has already been given to a standby passenger." Finally, "May I borrow your passport sir?" He came back a few minutes later, handed me my passport with a knowing look; it had a ticket inside. "Please board immediately." Which I did, turning right as I got onto the 747. An attendant glanced at my ticket. "Other way please sir." They'd bumped me to first for the 10-hour flight. Time for my pujas.)
I kinda-sorta miss the Brazilian Embraer EMB-120 twin-prop aircraft that SkyWest (which United contracts for its services here) used to fly until 2015. Bumpy, noisy and inefficient, they had their own particular charm, plus they were more frequent than today's larger but fewer Canadair jets. In the industry, it's called upgauging and rebanking: less flights, more passengers, less of a carbon footprint.
Speaking of which, here's a link to United's CarbonChoice carbon offset program. For $2.40, you can give your conscience a pass when flying to LA and back. $15 per 10,000 miles. It goes to Conservation International. Recommended.