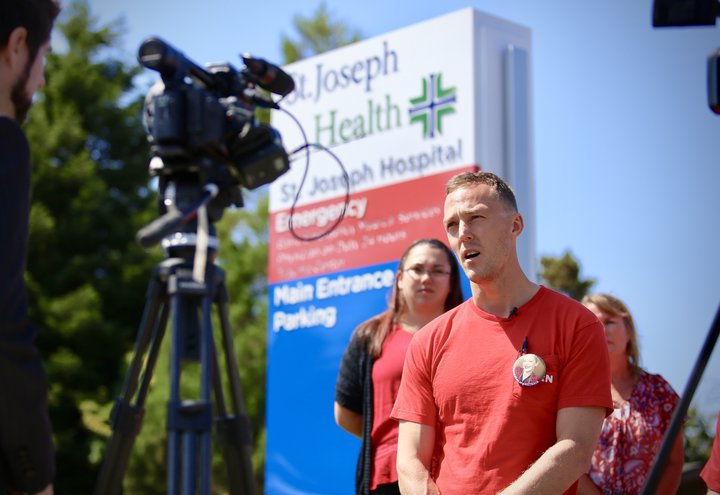 Nine nurses gathered in front of St. Joseph's Hospital yesterday afternoon to inform the media and the public about demands surrounding nurse safety at the hospital. Over the past two weeks six nurses have been assaulted, according to Lesley Ester, chief nurse representative for the California Nurses' Association at St. Joseph's Eureka. The rise of violence against nurses is something the Nurses' Union has described as an epidemic.
"I believe management should wholeheartedly join us in this proposal, it is in both of our best interests to provide the safest place available," Ester said. "It is not in anybody's interest to have nurses assaulted. We are not soldiers, we are not policemen."
The Nurses' Union has five demands that include: "Full implementation of a workplace violence plan that is developed with the active participation of bedside Registered Nurses"; paid leave for time after an assault takes place; employer-paid counseling for nurses experiencing emotional trauma; the renewal of the RN Workplace Injury Insurance program; and annual training "when new hazards are identified."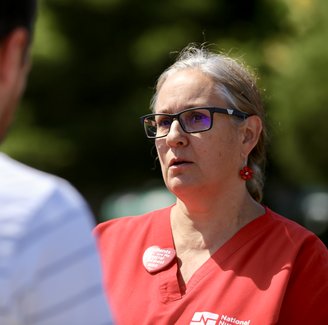 Ester, who also works at the inpatient rehabilitation unit, described the language within the contract as strong and that they are willing to push the contract because, as she put it, "enough is enough." As for a catalyst for causing the uptick in nurse assaults, Ester pointed to a change in patient to nurse culture.
"I think part of the problem is that we had veered at one time towards the patient is always right, which takes away from the education and therapies and the help that nurses have to give," Ester said. "I think we need to relook at the culture and veer to a safety culture."
Ian Selden, a labor representative for the Nurses' Union, said there have been reports of a patient using an IV pole as a sword to attack a nurse and another incident where a patient tried to used glass shards to attack a nurse. He said some nurses make escape strategies before entering a room.
Ester fought back tears as she described some of the conditions the nurses face.
The Nurses' Union has a history of protesting before contract negotiations. A reporter from the Times-Standard asked about how this current demand looks with upcoming contract negotiations, Ester said she will always fight for nurse safety. When asked if the nurses are going to strike over their demands Ester said it is too early in the process to consider that but "the negotiating team is firm in their commitment to nurses's safety and [they] won't be closing contract negotiations until we feel that we have hammered out a way forward that is in the nurses' best interest."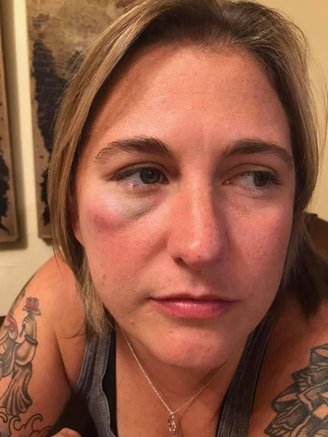 Randie Litten has been a nurse at St. Joseph's for nine years and said there has been a rise in the amount of mental health patients in the emergency rooms and pointed to a lack of resources in Humboldt as a reason for the violence.
"I think the services have been there but there is an increase in need," Litten told the Outpost. "Sempervirens can only provide what they were built for. We've become the dumping ground for mental health patients."
Litten said she wants to see an increase in security and for the hospital to develop a "no tolerance" policy when it comes to violence against nurses. She went on to say there hasn't been any pushback from management for the demands that they seem to be "at a loss of how to handle this."
"I can feel that they agree and that they want to implement change," Litten said, "but it is just a matter of where to start."
A statement from Christian Hill, manager of communications for St. Joseph's Hospital, reads as follows:
Recently there have been reports concerning violence against caregivers in Humboldt County. First and foremost, we care deeply about the safety and security of our valued caregivers.

Across the country, hospitals and health care organizations are experiencing a rise in workplace violence. Founded on our value of Dignity for each person, our goal is to address security concerns while preserving access to facilities for patients seeking care and those visiting loved ones.

We have instituted training so caregivers can recognize signs when a patient's agitation is escalating and how to intervene and de-escalate. In 2019, we added technology and staff to begin a new visitor management system at St. Joseph Hospital to create a safer environment. We continue to work together with our caregivers to enhance the safety for all.