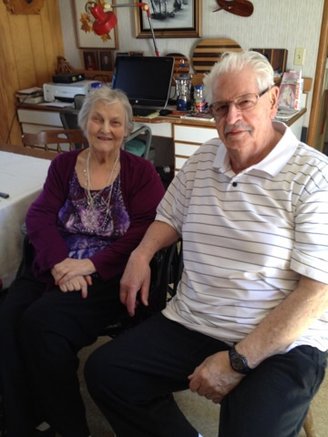 Joyce Katherine Bushnell passed away, June 28, 2019 following a long illness. She was born in Virginia, February 28, 1934. She arrive in Eureka by train around the age of eight. The train ride was quite an adventure, because at the time, if there were soldiers needing a seat, the family had to get off and wait for a seat on the next train. She attended local schools, graduating from Eureka Senior High. She was then trained as an x-ray technician at St. Joseph Hospital where she worked until shortly after her marriage to Claude Bushnell in 1955. She later took accounting classes at College of the Redwoods to help with her husband's fishing business. The hardest part about going to the Junior College was that she had to get over her fear of driving on the freeway!

In addition to her husband of 64 years, she is survived by her daughter Linda Baku, her son Kenneth Bushnell and her grandchildren Meredith Baku, Jacob and Casey Bushnell. She was preceded in death by her mother, Sue Brown, her stepfather Fred Brown and her brother Charles Royston.
During her lifetime she kept busy tending her large gardens. She grew beautiful flowers and countless vegetables which she would can in the fall. She was a talented seamstress and made clothes for friends and family. She later became interested in quilting and leaves behind many beautiful quilts that will be a lasting legacy. After her children left home, she worked in the fishing industry. She worked at Bumble Bee Tuna in Astoria, Oregon when her husband's work took him north. She later worked at Eureka Fisheries where she made many good friends. She and her husband also ran Picasso's Take and Bake Pizza for many years and they were well liked by their loyal customers. Joyce had many health issues that would have gotten anyone else down, but through it all, she remained upbeat and cheerful. She had always been an avid reader and after her vision failed, turn to audiobooks from the Braille and Talking Book Library. This service was truly a lifeline for her.
Her last five years were spent at Seaview Convalescent Hospital where she received excellent care. Her husband, friends and family visited many times a week. She was loved by the staff and they went out of their way to help make her feel special. Many of the staff members became like family and we will miss them. I especially want to thank Dr. Han who cared for her seemingly as if she where her own loved one.
At her request, services will not be held. For those wishing to make a donation in her name, the Braille and Talking Book Library (BTLB) is a wonderful service. Donations can be sent to BTLB, 900N Street, Sacramento, CA 95814 or to the local Humane Society, she donated to them her self on a regular basis.
###

The obituary above was submitted on behalf of Joyce Bushnell's family. The Lost Coast Outpost runs obituaries of Humboldt County residents at no charge. See guidelines here.