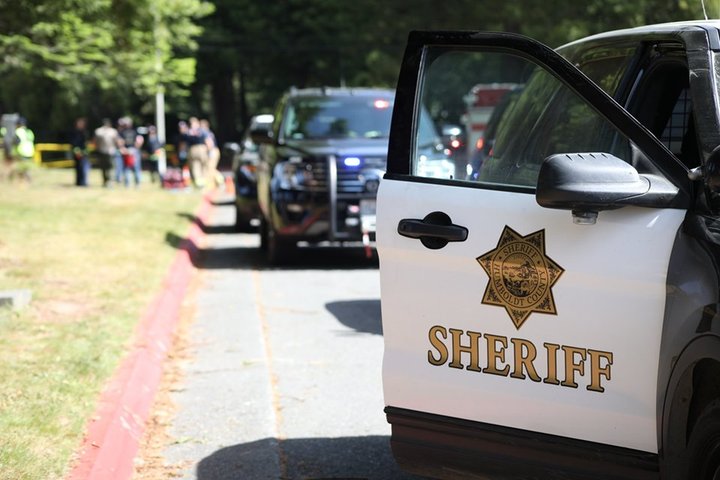 ###
Students in our modern age face a plethora of stresses in their lives. Gone are the days where one could simply take a different street to avoid a bully. Students today have some of the same problems of the past but layered with a few new ones like social media, massive student debt (for those about to graduate or currently in college) and school shootings. According to Education Week, there have been 14 school shootings nationwide so far this year, with 23 people injured or killed by a gunman.
Fortunately, we are blessed here in Humboldt County to have never experienced such an event, but that doesn't mean law enforcement, medical services and school officials aren't training for the worst. Early on Monday morning at Winship Middle School, representatives from five different agencies took place in an active shooter drill. Present at the drill were Humboldt Bay Fire, Eureka Police Department, Cal Fire, City Ambulance Services and the Humboldt County Sheriff's Office.
Tom Dewey, an analyst for the Sheriff's Office, directed the training for the agencies on Monday morning and said there are essentially three phases of how to deal with an active shooter at a school. The first phase, Dewey said, is to stop the killing. Police arrive on scene and immediately go towards where shots are being fired. While this is taking place, the second phase is beginning, with personnel from medical services and fire departments arriving, as well as more police. Phase two is where the "knitting together" of the agencies takes place and is something that Dewey said is essential.
"There are no agencies within our county to handle an incident like this on their own," Dewey told the Outpost. "We have to stitch together a collaborative response."
The third phase, Dewey said, is to "stop the dying." Police secure the area so that medical services can help anyone suffering from injuries and help to prioritize transportation needs to the local hospitals.
"As soon as we can make it safe enough to bring in fire and EMS, we do so and look out for their safety," Dewey said.
Although Monday's training took place at a school, school officials were not involved in the drill. Schools have their own procedures to follow when it comes to handling potential threats on and off their campuses.
Jennifer Johnson is the principal at Eureka High, where she oversees nearly 1,150 students and 110 staff members. Johnson has been at Eureka High for 16 years and just finished her fourth year as the school's principal. Johnson said the staff go through regular trainings at the school and have a "traditional lockdown and shelter in the room" approach during such events. In the fall, Johnson said Eureka High staff will go through training based on the ALICE, model which stands for Alert, Lockdown, Inform, Counter, and Evacuate.
"I have attended trainings at both the district and county levels that involve procedures, scenarios, and information from first responders," Johnson wrote in an email to the Outpost. "My assistant principal has been to both ALICE training and to a FEMA training on the East Coast that covered a variety of safety plan areas from natural disasters to lockdowns."
Eureka High doesn't keep an official record of how many times they have gone on lockdown (nor do most other schools), but staff go through a debriefing session after each training and incident. During her time as principal, Johnson said she can only think of the school going on lockdown twice — once for gunfire in the nearby area and another for a weapon being found in a parking close to the school.
According to an Outpost analysis of EPD data, there were two homicides, approximately 200 reports for assaults, and around 150 incidents involving weapons — including brandishing, reports of gunfire and shots fired into occupied dwellings — within a mile of Eureka High School during the past school year. Within that mile radius of Eureka High are 15 schools or daycare facilities, including everything from elementary schools to preschools to adult and continuation schools.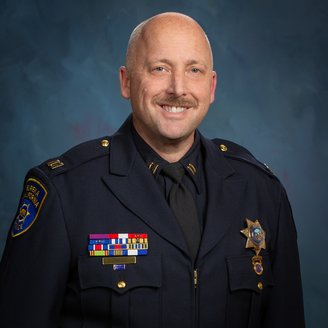 EPD Patrol Commander Captain Patrick O'Neill said law enforcement agencies can make recommendations to the schools to order a shutdown, "but ultimately it is the decision of the school administrators." O'Neill said that any situation that may place lives and well-being of the students and staff at danger is a reason to call for a lockdown.
"That could range from a dangerous person on a campus, to a police pursuit nearing a school, or even an aggressive or sick animal on a campus," O'Neill told the Outpost in an email. "If a pursuit is in close proximity to a school and the pursuit is going directly towards the school, we would notify the school and advise them what is happening. We would stay on the line with them and if the pursuit continues towards the school we would give them that information for them to make an informed decision to lockdown or not."
O'Neill went on to say that a suspect at large would elicit a request from EPD for an immediate lockdown of a nearby school and the main objective for EPD during these situations is to contain the incident and make the site safe for all.
"Law enforcement in general, especially in the area of school incidents, is ever evolving," O'Neill said. "We learn ways to improve our handling and tactics from each incident, with the ultimate goal of preventing future incidents and ensuring the safety of the students, staff and the public."
The Humboldt County Sheriff's Office handles incidents that occur in the unincorporated areas of Humboldt County. McKinleyville is such an area, and according to an Outpost analysis of Humboldt County Sheriff's Office data there were calls and reports for 21 assaults, over 60 burglaries, eight incidents for drug violations, three robberies, and 10 incidents in which deputies were called to respond to a weapons violation (four of which were for assault with a deadly weapon) within about a mile of Morris Elementary during the 2018-2019 school year.
Patrol Lieutenant Greg Musson has been with the Sheriff's Office for 12 years, and said the Sheriff's Office takes similar measures to EPD's when it comes to school lockdowns.
"The Sheriff's Office will notify schools if an investigation into a violent crime or a crime involving firearms is occurring nearby," Musson said. "Our agency is dedicated to growing our relationship with local schools and have been exploring School Resource Officer opportunities as staffing allows."
Currently the Sheriff's Office does not have any resources officers at the local schools, but that doesn't mean it's not involved in community relations. Musson said officers go on school visits and community outreach events and all have been "overwhelmingly positive."
"It is important for children to be reminded that police officers and deputy sheriffs are not around to harm them or cause discomfort, but are in fact here to assist them in a time of need," Musson said. "In regards to law enforcement presence at schools, we often see more of a fearful or anxious reaction from parents when a patrol car is parked outside of a school than we see of the students at the school."
Just a couple of weeks ago, on June 11, Fieldbrook Elementary went on what Principal Justin Wallace called a "soft lockdown" due to a woman in the nearby area walking with what some thought was a weapon. Deputies responded to the incident but were unable to find the woman and believed she may have run off into the woods near the school.
"The Sheriff's Office called us right away and didn't tell us to do a lockdown, but it was my discretion to do that soft lockdown," Wallace told the Outpost.
Fieldbrook Elementary is a small school with only eight full-time teachers and 135 students. According to Wallace, there are three steps that take place during lockdowns at the school. First the eight teachers are notified verbally by the office staff of the lockdown order. Next, the students and teachers return to their classrooms, and lastly class resumes or continues as it was before.
"The soft lockdown is similar to a rainy day recess just with the doors locked," Wallace said.
Once everything is clear an "all call" goes out to the parents of the students in three ways. Wallace said there is a text notification, a robocall and an email sent out. Lockdowns are not a regular occurrence at Fieldbrook; this was the first one that was not a drill, Wallace said.
"There are things we discuss as a staff and we practice throughout the year. It gives us the opportunity to discuss 'what if' ideas," Wallace said. "We are unique in our rural situation and we don't have a lot of crime in our area."
###
Part two of this report will feature what happens in Arcata when a lockdown occurs, what it is like from a student's perspective during these events, and what it is like to be a student in our modern age.