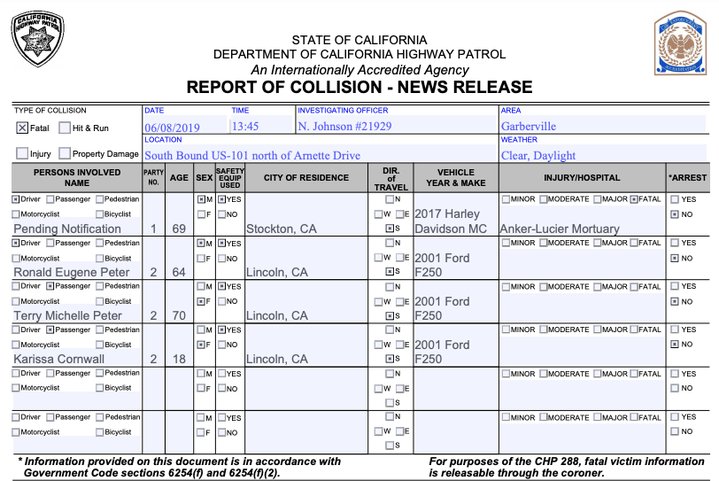 CHP press release:
On June 8, 2019, at approximately 1345 hours, Ronald Peter was driving a 2001 Ford F-250, traveling south bound US-101 north of Arnette Drive, slowing in preparation to turn left into the parking lot of the Peg House. Peter had his left turn indicator on and came to a complete stop, waiting for a break in traffic to make his left turn.

P-1 was riding his 2017 Harley Davidson motorcycle traveling south bound US-101 north of Arnette Drive approaching the rear of the Ford at an unknown speed. P-1 observed the Ford stopped ahead of him and applied the brakes on his motorcycle, but was unable to avoid rear ending the Ford. P-1 sustained major injuries and was pronounced deceased on scene. Alcohol does not appear to be a factor in the collision.

The drivers name of the Harley Davidson motorcycle is being withheld, pending next of kin notification by the Mendocino County Coroner.

Personnel from The Mendocino County Sheriff's Department, Cal-Trans, Cal-Fire, Leggett Fire Department, Piercy Fire Department, City Ambulance, and Reach Air Ambulance all responded to assist at the scene.

This incident remains under investigation by the Garberville CHP office.