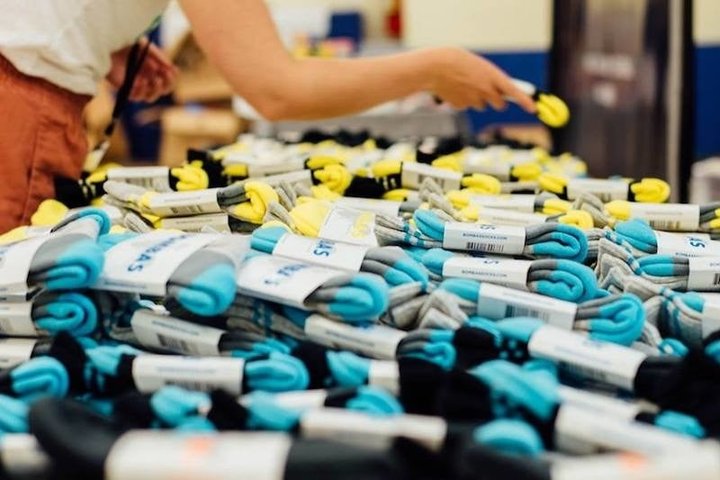 City of Eureka press release:
The City of Eureka will receive 1,250 pairs of socks to distribute to community members in need. The socks are being donated by Bombas, a sock manufacturing company that includes charitable giving as part of their business model.

Councilmember Natalie Arroyo learned of the program after buying some of their socks, and subsequently hearing that other regional organizations received sock donations. She applied for the City of Eureka to receive socks, in hopes that multiple service providers in Eureka would be able to provide socks to people during their face-to-face interactions and enhance positive relationships with those in need.

Bombas' website states that "Socks are the #1 most requested clothing item at homeless shelters. This fact is the driving force behind Bombas. Bombas exists to help solve this problem, to support the homeless community, and to bring awareness to an under-publicized problem in the United States." They design special socks for distribution to individuals "who don't have the luxury of putting on a clean pair of socks every day. An anti-microbial treatment ensures they don't need to be washed as often, and reinforced seams and darker colors give them greater durability with less visible wear."

The City of Eureka will distribute the socks via the Community Access Project for Eureka (CAPE), UPLIFT Eureka, Eureka Police Department, Betty Kwan Chinn Foundation, and other community partners. Bombas has indicated that more donated socks may be available to Eureka in the future, too. For more information about CAPE please visit www.EurekaHeroes.org. To learn more about the UPLIFT program, check out www.EmpowerEureka.org/co-pilot-program. You can also find out about Bombas donation program and see other local recipients of their socks at www.bombas.com/pages/giving-back.

The City of Eureka would like to express appreciation to Bombas for their generous donation.