The last two surviving men to be sentenced to death in Humboldt County will seemingly escape capital punishment, after Gov. Gavin Newsom signed an executive order last week to halt the executions of all 737 death row inmates in California.

Convicted murderers Jackie Ray Hovarter and Curtis Floyd Price will now spend the rest of their lives in prison without the possibility of parole, despite receiving death sentences in Humboldt County for the violent crimes they committed in the 1980s.
In 1989, Hovarter was found guilty of kidnapping, raping and murdering 16-year-old Danna Walsh of Willits while driving his truck route for the Louisiana-Pacific pulp mill in Samoa. According to court documents, Hovarter is believed to have strangled Walsh to death before dumping her body along the Eel River near Scotia Bridge in August of 1984.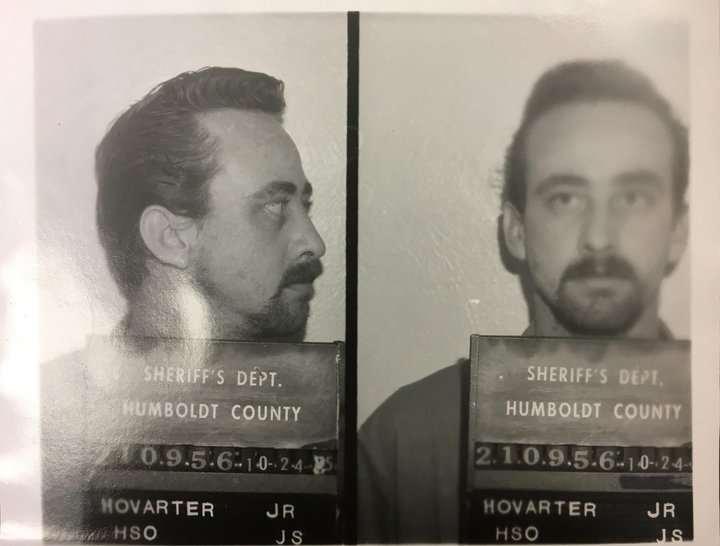 Hovarter was not charged with Walsh's death until he was found guilty of kidnapping, bounding, raping and shooting a second teenage girl from Fields Landing four months after Walsh's death. The unnamed 15-year-old miraculously survived the incident, and was able to identify Hovarter and recount the gruesome details of the attack.
"He took the gun from his pocket and placed the pillow over it," court documents read. "[The unnamed teenager] asked him whether he was going to shoot her. He said he would not and then shot her in the head. She became dizzy, fell to the ground, and tried to remain motionless. Defendant kicked her twice and asked her whether she was dead. He then shot her in the head again. Miraculously, neither bullet penetrated her cranium. Defendant untied her from the tree, dragged her to the river, and tried to roll her in. She got into the current and floated away, managing to untie her hands."
Hovarter, 66, is currently housed in San Quentin State Prison. Until last week, it was the last California prison to carry out court-ordered executions. The prison's execution room, formerly a gas chamber, was converted into a lethal injection room in 1995 after judges ruled that the use of gas was cruel and unusual punishment. The chamber was promptly dismantled last week following Gov. Newsom's order.
Lethal injection chair removed, San Quentin death chamber closed https://t.co/bA4g7EcctU pic.twitter.com/q9g5OgHeeQ

— CBS Sacramento CBS13 (@CBSSacramento) March 13, 2019
In 1991, a Eureka man named Curtis Floyd Price — now 71 — was also sentenced to die in Humboldt County by a jury of his peers.
Price was found guilty of fatally shooting Richard Barnes in Los Angeles, and later beating Elizabeth Ann Hickey to death in her Humboldt County residence. He was also found guilty of burglary, robbery with the use of a firearm, receiving stolen property and conspiracy.
According to Justia.com, prosecutors had evidence to believe that Price was a member of the Aryan Brotherhood, and was ordered by gang leaders to carry out the killing of Barnes — the father of an Aryan Brotherhood member — for testifying against other members of the gang. Prosecutors argued that Price later killed Hickey — Barnes' stepdaughter — to obtain the guns in her home, or to prevent her from incriminating him in the Barnes murder case.
As a result of Newsom's order, Price will likely be the last man to be sentenced to death in Humboldt County. Although Californians voted twice in the last the last decade to preserve the death penalty, Gov. Newsom gave a number of reason why he chose to bypass the will of the people.
In a state-issued press release, Newsom stated that California taxpayers have spent more than $5 billion since 1978 to execute 13 people. The governor also said that the death penalty system is discriminatory against people of color, the poor and the mentally ill, citing a 2005 study that found that people convicted of killing white people were three to four times more likely to be sentenced to death than those convicted of killing black or Latino people.
"The intentional killing of another person is wrong, and as Governor I will not oversee the execution of any individual," Newsom is quoted as saying in the press release. "Our death penalty system has been, by all measures, a failure. It has discriminated against defendants who are mentally ill, black and brown, or can't afford expensive legal representation. It has provided no public safety benefit or value as a deterrent. It has wasted billions of taxpayer dollars. Most of all, the death penalty is absolute. It's irreversible and irreparable in the event of human error."
Newsom's mention of "human error" was in reference to the 164 death row inmates who have been freed from U.S. prisons since 1973, after they were found to have been wrongfully convicted — five of which were sentenced right here in California.
Defying voters, the Governor of California will halt all death penalty executions of 737 stone cold killers. Friends and families of the always forgotten VICTIMS are not thrilled, and neither am I!

— Donald J. Trump (@realDonaldTrump) March 13, 2019
Newsom's order has drawn vehement criticism from those close to the victims killed by death row inmates, like Placer County Sheriff Devon Bell, who addressed the governor's order in a Facebook video last week.
In the video, which received almost half a million views, Bell shows his disappointment that Luis Bracamontes will not be put to death for the murder of Detective Michael Davis Jr., who Barcamontes shot and killed with an AR-15 rifle while Davis was pursuing him for the murder of another officer, Deputy Sheriff Danny Oliver of the Sacramento County Sheriff's Department.
"I am profoundly saddened and heartbroken to hear that Governor Newsom has suspended the death penalty in California," Bell said in the video. "For us at the Placer County Sheriff's Office, it's opened a fresh wound."
Bracomontes made national headlines for smiling as he threatened to kill more officers during his murder trial in 2018.
However, Gov. Newsom also received positive support for his action. Senator Kamala Harris and and state senator Mike McGuire both issued statements publicly praising the governor last week.
"This is an important day for justice and for the state of California," Harris is quoted as saying in a press release. "I applaud Governor Newsom for his decision to place a moratorium on the death penalty. As a career law enforcement official, I have opposed the death penalty because it is immoral, discriminatory, ineffective and a gross misuse of taxpayer dollars."
McGuire went so far as to call capital punishment "archaic," and echoed the governor's sentiments that the death penalty system is inherently racist.
"The death penalty is an archaic and unjust system, disproportionately condemning people of color and those with disabilities," McGuire stated. "I commend Governor Newsom for his decisive action today to place a moratorium on the death penalty in California. There is absolutely no evidence that the death penalty makes Californians safer, and it is both incredibly costly and burdensome. This is the right step to take, while the legislature and the administration work together to make our criminal justice system stronger and more just."