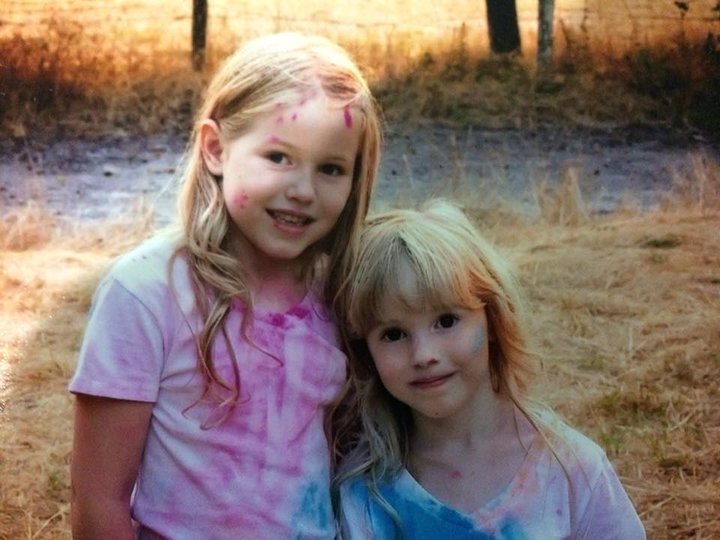 UPDATE, 2:30 p.m.:
The Humboldt County Sheriff's held a press conference at the Benbow Lake Recreational Area this afternoon to discuss the search for the two girls.

Lt. Mike Fridley mentioned that there are some new clues in the investigation, including boot prints and the discovery of granola bar wrappers in the search area. HCSO was able to confirm with the mother that she had just bought that brand and style of granola bars.
Fridley and Sheriff William Honsal both stressed the importance of people staying out the search area, which can be hazardous and potential disturb evidence. Any one who would like to help or has any information is encouraged to contact the tip line (707) 441-5000.
Video from today's press conference:

###
Press release from the Humboldt County Sheriff's Office:
The Humboldt County Sheriff's Office is searching for two missing girls who are believed to have walked away from their home.

Rose Caroline Carrico, age 5, and Leia Carrico, age 8, were last seen at approximately 2:30 p.m. on March 1, 2019, outside of their residence, located on the 3000 block of Twin Trees Road in Benbow. The girls are believed to have walked off into the wooded area nearby their home.

The Humboldt County Sheriff's Office was notified of the girl's disappearance at about 6 p.m. on March 1. Sheriff's Special Services deputies, Southern Humboldt Technical Rescue and CAL FIRE crews responded and conducted an initial search of the area throughout the night.

Search crews continue to search today, March 2, for the two girls.

Caroline Carrico, age 5, is described as a white female, 3 feet 6 inches tall, 40 pounds, with hazel eyes and blonde hair with bright purple streaks. She was last seen wearing a maroon rain jacket with white horses, blue jeans and pink boots.

Leia Carrico, age 8, is described as a white female, 4 feet 2 inches tall, 85 pounds, with hazel eyes and blonde hair, with a large freckle on her left cheek. She was last seen wearing a dark gray hooded long sleeve shirt and purple rain boots.

The search area consists of steep, heavily wooded terrain. Search teams from the following agencies are being utilized:

Mendocino County
Napa County
Del Norte County
State Parks
National Guard
United States Coast Guard
Sothern Humboldt Technical Rescue
CAL FIRE
Sheriff's Search and Rescue Posse
Humboldt County Sheriff's Office

All available resources are being utilized by searching personnel. Through the collaborated efforts of all the involved agencies we are working to resolve this incident as quickly and safely as possible. Rescue personnel will be searching the immediate and surrounding areas and constantly evaluating the conditions during the search efforts.

The public is advised to please avoid the area while search teams are working unless given permission by the Humboldt County Sheriff's Office.

A public tip line has been established for any information regarding the possible whereabouts of Caroline and Leia Carrico at (707) 441-5000.

A press conference for members of the media has been scheduled for 2 p.m. today, March 2, 2019, at the Benbow Lake State Recreational Area (445 Lake Benbow Dr. Garberville).

Further updates will be provided when available.

Anyone wishing to subscribe to the Sheriff's Office automated press release notification system can do so by visiting: https://humboldtgov.org/list.aspx?ListID=219