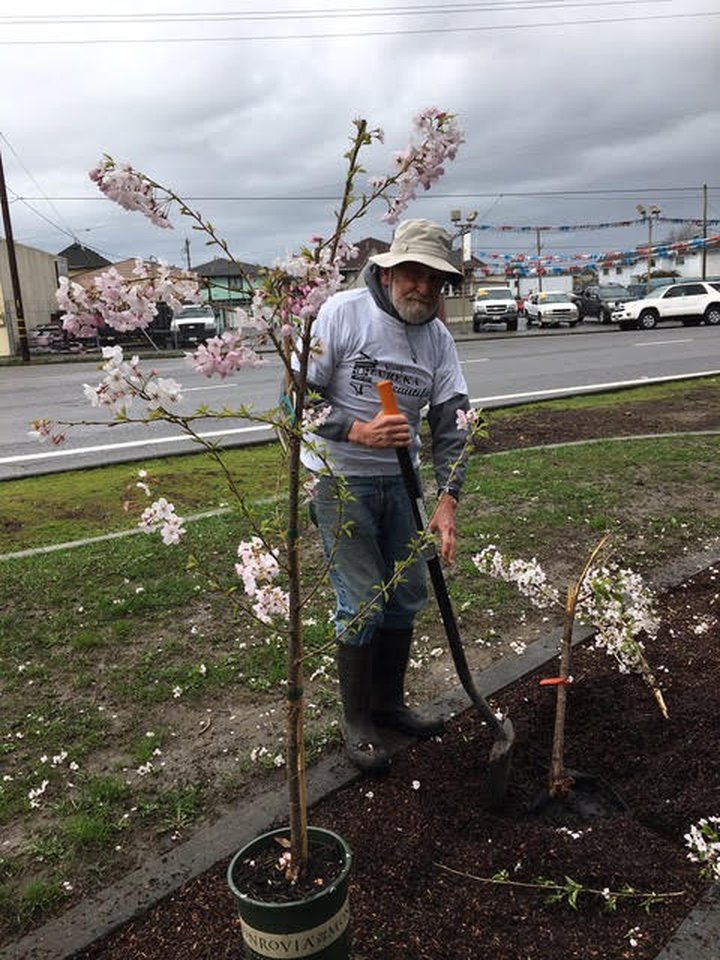 UPDATE, 4:45 p.m.: Whatta guy! LoCO reader Michele McKeegan sends in a photo, above, of Keep Eureka Beautiful volunteer Ed Olsgard replacing Kamisu Park's vandalized cherry tree with a new one this afternoon.

# # #
Original Post:
PREVIOUSLY:
###
Last month, a delegation from Kamisu, Eureka's sister city in Japan, made the trip over here to be at the dedication for Eureka's newest officially designated greenspace — "Kamisu Park," a wedge of public lawn fronting Fourth Street, near the intersection with Myrtle.
Our friends from across the Pacific — including Kamisu's mayor — brought with them six flowering cherry trees and presented them as a gift to their counterparts here in town. Eureka's dignitaries and Kamisu's dignitaries together took up shovels and planted these at a public ceremony.
A month later, as spring starts to descend upon the North Coast, one of those saplings did what Japanese cherry blossom trees famously do at winter's end: It broke out in flower. You may have noticed it while driving past these last few days — one proud, precocious little tree, blazing a trail for its siblings.
Of course, we could not have that. Last night, some stunted human being or beings found themselves at Kamisu Park, witnessed the tree that was ready to offer its beauty to the world, and physically destroyed it.
Miles Slattery, Eureka's community services director, tells the Outpost that the attack happened sometime last night. It's been reported to the police. No suspects have yet been identified, but Slattery says that vandalism with a similar M.O. has been happening in other parts of the city recently.
If you see someone tearing up public property within Eureka city limits, do the right thing and give the Eureka Police Department a call as soon as possible. If you know anything about the stupid carnage at Kamisu Park last night, do likewise. The number, in either case, is (707) 441-4060.