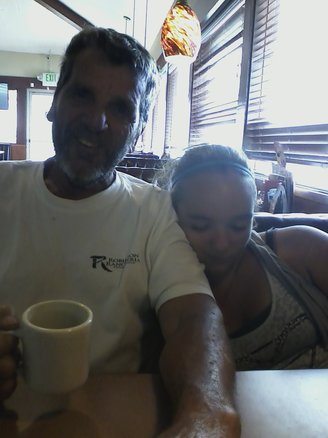 Frederick Antone Oliveira passed to his rest on March 11, 2019, at his home in Fortuna. He had been diagnosed with ALS in September and died of ALS complications.

Fred was born December 6, 1945, in Scotia and lived in Fortuna all his life. When he was 5 years old his family moved to the ranch on Mill Street where he and his three brothers enjoyed the country life, helping their parents, Joe and Ruby, raise beef cattle and chickens, as well as a huge garden. Fred attended Toddy Thomas Elementary School and Fortuna High School, where he made many friends.
Fred worked during the last two summers of high school in Crescent City for the forestry, helping on the fire crew. After graduation he joined the U S Navy, 1965 to 1969, and spent time in the Mediterranean, visiting Japan, Greece, Italy, and many other ports.
When he returned home he met and married Jeanette Souza and they had two boys, Jasen and Tim.
He met Raemel Rakestraw on March 3, 1990, when his Uncle Clifford informed him that he had been single long enough and no woman was going to come knocking on his door; he had to get himself out there. That was a very special day for both of them.
Fred was a millworker by profession, but he was a rancher by choice. He enjoyed many activities such as Sudoku puzzles, bowling, camping, travelling the Humboldt County backroads, and burning huge piles of brush, but his favorite hobby was raising beef cattle and working on the ranch.
When he retired from Palco he started attending the Humboldt County Auction, where he could be found every Wednesday sitting with his friends, after having garlic fries at Bob's Footlongs, of course!
Fred had a few favorite things he liked to do. He listened to KEKA 101.5 on the radio every chance he got. He liked drinking tea or coffee, sitting on the porch waiting for Raemel to come home from work, picking true blackberries (not Himalayas) and eating blackberry pie, and having real old-fashioned macaroni and cheese just like his mother made, and which has been duplicated quite well by his daughter-in-law, Heather. He also enjoyed Friday morning breakfast with his family at L's Restaurant and his smile will be missed by all who work there.
His bucket list was short - he wanted to visit Alaska and take a ride on the White Pass Railroad clear to the top. He was able to check that off the list in 2017, a trip he thoroughly enjoyed.
Fred leaves behind his beloved family: wife Raemel, sons Jasen and Tim (Heather), grandchildren Jeremiah (Shelley), Kayla, Kimberleigh, Skyllar, and Ethan, great grandchildren Dakota, Brylee, and Morgan, brothers Clarence and John (Vivian), sister-in-law JoAnne, nephews Kevin and Matt, nieces Sara and Katie. He also leaves behind his special friends John Montgomery, Ozzie and Joann Smith, Don Charlton, and Francis Sweet.
Fred was preceded in death by his parents, Joe and Ruby Oliveira, his brother Harold Oliveira, his sisters-in-law Corinne Oliveira and JoyeDel Oliveira, and his nephews Corey Carter and Brian Oliveira.
A celebration of Fred's life will be held on April 19, 2019, at noon, with a potluck following, at the Oliveira Ranch, 5255 Mill Street, Fortuna. All who knew and loved Fred are invited to join in this celebration with his family.
In lieu of flowers donations may be made to Hospice of Humboldt or the ALS Association.
###
The obituary above was submitted on behalf of Fred Oliveira's family. The Lost Coast Outpost runs obituaries of Humboldt County residents at no charge. See guidelines here.