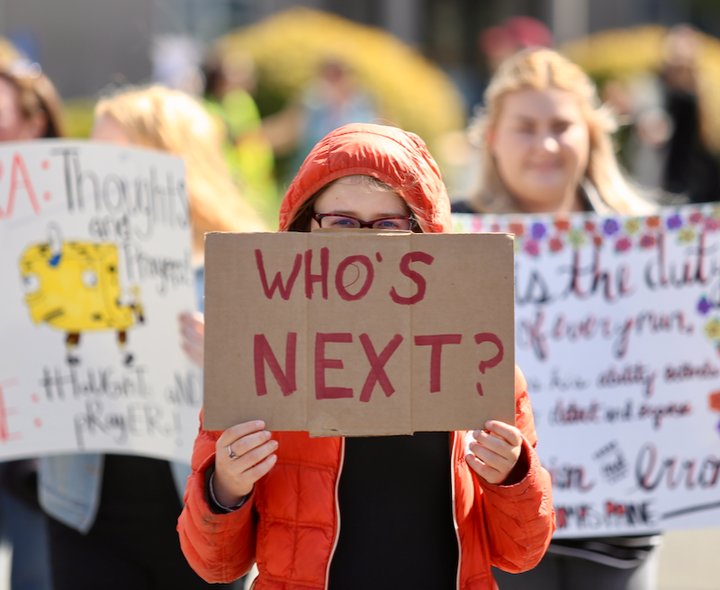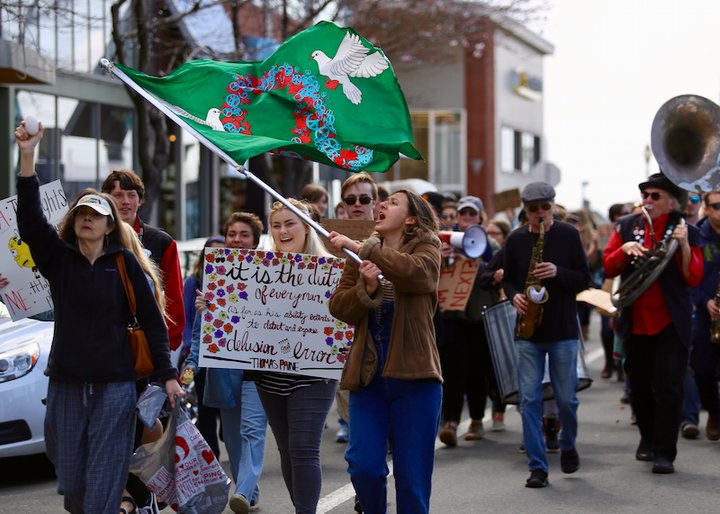 It's been one year since thousands across the country took to the streets to protest gun violence in the wake of the mass shooting that claimed the lives of 17 people at Marjory Stoneman Douglas High School in Parkland, Florida. Today, again, sign-waving, slogan-chanting youth and their supporters gathered in mass to "March for Our Lives."

Aided by Saturday's surprise sunshine and flanked by local horn ensemble Bandemonium and one of the Arcata Playhouse's towering puppets, a group of a hundred or so Humboldt protesters trekked from the Creamery Building up to the Arcata Plaza and back again shouting chants such as "Enough is enough!" and "Hey! Hey, NRA! How many kids did you kill today?!"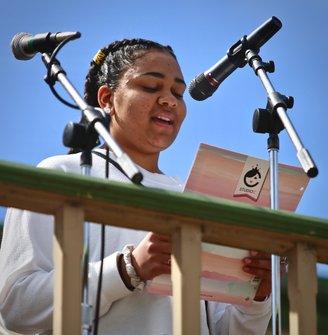 The proceedings began with a rally in front of the Creamery Building featuring speeches from local leaders, both young and old. Lavender Weburg, 17-year-old president of the Arcata High Black Student Union, called the gun violence that continues to regularly occur in America "appalling" and encouraged her fellow students to continue working toward change.
"All of you are out here fighting for what you think is right and making a huge positive impact in our community," Weburg said. "March for your lives and keep fighting."
A couple of high school-aged activists who've already fought to alter gun laws locally are Olivia Joachim and Eva Swarts, both sophomores at Northcoast Preparatory Academy. Last year the pair successfully lobbied the Arcata City Council to adopt an ordinance requiring firearms to be locked up when citizens aren't home. Today the duo spoke in tandem to assure those in attendance that they're just getting started.
"We are here to remind our elected and our policy makers that we have yet to be pacified," Joachim said. "We are here to remind them that we have not forgotten their lack of movement toward stricter gun legislation. As the youth of America we will not allow our schools, our learning centers, our institutions of education to be jeopardized."
Several of the signs carried by protesters Saturday read "WWNZD?" or "What Would New Zealand Do?", a reference to last week's shooting at a mosque in Christchurch which resulted in the deaths of 51 people. Arcata High School student Maddie Lankarani, age 15, used her stage time to highlight the New Zealand government's post-massacre announcement that it would ban all military-style semi-automatic weapons, assault rifles and high-capacity magazines. New Zealand's decision came mere days after the deadly attack.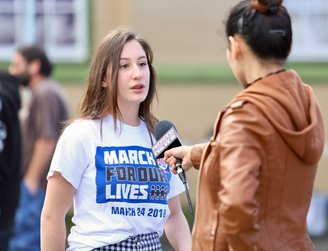 "They are buying back these weapons from people," Lankarani said. "And it is costing them millions of dollars, but they care about the safety of their country. And we need to follow their example: In New Zealand it is a privilege, not a right, to own a gun."
Couldn't make today's event? Your Lost Coast Outpost was on hand for today's march and offers up a handful of photos below.
# # #