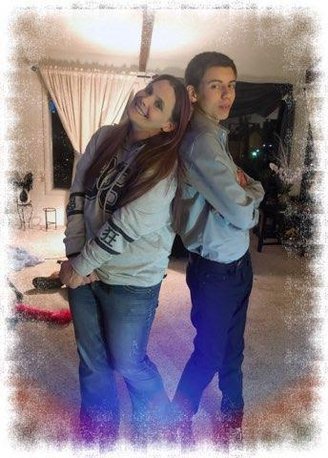 Angel K. Fawn Lennon-Hurst passed unexpectedly on February 6th, 2019 from complications related to her rare genetic condition, Ehlers-Danlos Syndrome. She was born on October 24th 1980 at Redwood Memorial Hospital to Kelly Janine (Esskew) Cook and Max Lennon Jr.

Angel was raised in Rio Dell, surrounded by her family and cousins who were as close to her as siblings; she and her cousin Brooke will always be remembered acting more like sisters. Angel went to Fortuna Union High School, where she met her highschool sweetheart and future husband, John Paul Hurst. Angel was a student so together that she had a job (Pizza Factory) and a car, and she used to give us all rides to school. Angel graduated in 1998 and went on to the Institute of Loving Hands, where she became a certified massage practitioner.
Angel and John eloped and married in October 2001, and will fondly be remembered as the cute couple on the block. In 2004 Angel gave birth to the love of her life, her son JD (Peanut) Hurst, her BooBoo. Angel had a connection with JD that every mom hopes to have with their child into their teenage years; they were a pair like no other.
Family was very important to Angel, and her best friends were her mother Kelly, son JD, and sister, Ashlee. Angel and her mother Kelly were so close they were two peas in pod; you could not think of one without the other. Despite being 10 years apart Angel and Ashlee grew to be especially close as adults and moms. Angel had a special bond with her niece Braelee (BeyBey). She loved being the auntie who could get away with things no one else could.
Angel was a very private person, and with that being said she faced and overcame challenges in her life that most did not know about. She came out stronger and better on the other side and was a solid, dependable family member and friend. Angel was a decision-maker, a handler of business and was working two jobs at the unexpected time of her passing. If you were lucky enough to be someone she loved, Angel always found ways to let you know she was there and she cared, even if she didn't see you all the time. Angel was creative and funny, making handmade birthday cards and "Thinking of You" cards. She always thought of her friends and family when out and about and picked things up for everyone's kids while out "yard sale-ing", one of her favorite past times. She was loyal and loving and funny and stubborn.
Angel became an avid collector of many things … from beautiful elaborate masks to Halloween decorations to miniatures and artwork of fairies. She loved Garfield, fairies, scrapbooking, and was also a huge fan of Japanese anime. Halloween and Easter were her favorite holidays and she couldn't get enough of the seasonal candy that came with them. It was nothing for Angel to get 60 eggs at Easter and 30 different types of dye and sit with JD and Braelee dying all the eggs and having messy fun. Angel loved her music and was rarely seen without her earbuds, or her cat ears. She was an amazing mother, daughter, sister, cousin, aunt, niece and friend.
Angel will be greeted in love on the other side by her husband, John Paul Hurst; her grandmother, Carlene Lennon; her Nana & Poppa, Jill and Allen Esskew; aunt, JoAnne Esskew; cousin, Jaime Edwards.
Angel will be missed in life by her son, JD Hurst; her mother, Kelly Cook; sister Ashlee Moser (husband Skylar and his family); nieces Braelee and Brynnslee; in-laws Robin & Ed Paul (and family); father Max Lennon Jr (stepmom Koni Elam); grandfather Max Lennon Sr.; brother Julian Lennon (and family); aunt Cathy Nelson; cousin Brooke Nelson (and her children Jace, Taryn, and Trinity); aunt and godmother Jan Edwards, cousins Suzie and Robert Edwards; uncle Jerry Esskew; aunt Linda Allen; cousins Curtis & David; aunt Shelly Carter; cousins Steven & Jerry; cousin Janet Schager (AKA Auntie J); and many other family and friends.
She was an amazing mother, daughter, sister, cousin, aunt, niece and friend, and will be missed daily by everyone whom she loved and everyone who loved her.
Celebration of life will be held Sunday, March 10, from 3 p.m. to 5 p.m. at Fortuna Volunteer Fire Hall — 320 S. Fortuna Blvd. Please bring your fondest memories and a dish to share if you would like. Come remember and celebrate the life of this very special woman.
###
The obituary above was submitted on behalf of Angel Lennon-Hurst's family. The Lost Coast Outpost runs obituaries of Humboldt County residents at no charge. See guidelines here.