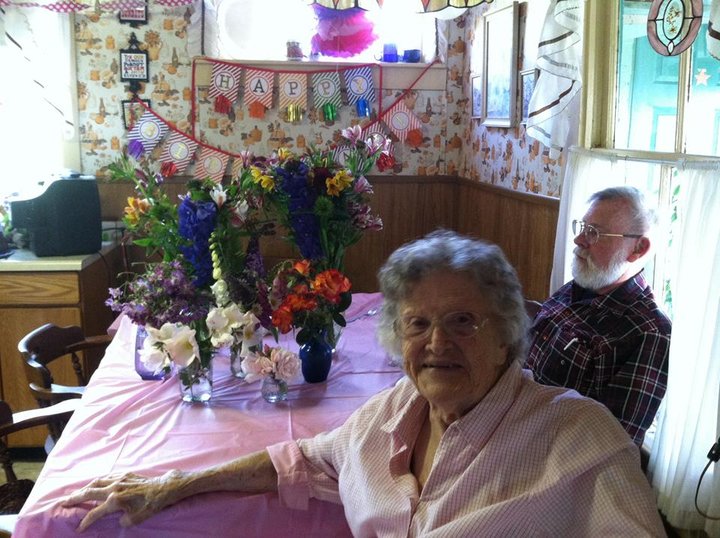 She was a twin, an immigrant, a worker, a welder, a wife, a mother of six, an aunt, a cook, a survivor of polio, a farmer, a builder, a quilter, a crafter, a grandmother, a matriarch.
Born in 1921 in Manitoba, Canada, Melba and her family moved to Seattle when she was a young girl. She attended school and began working in a cold storage warehouse as a teen. She also worked in a Woolworth's, a restaurant, and a chocolate factory where she enjoyed sampling the products. During World War II, she applied to build airplanes for what she described as "Good money in those days," a hefty $1.75 per hour.
She described her job at Boeing like this:

"First they put me on the skins, the wing skins. They had this solution made up, and we had to dip these big sheets in, they were about, I imagine, about 12 feet by eight feet, and we had to dip it in the solution. I did that for about a month or two, and then they graded me up to spot welding and it was a big tall machine you had to climb up and do it. You had to spot weld it first, and then give a sample, and then the supervisor would come around and she'd say 'Yeah, that's good' or 'No, that won't hold'. It was just like using a sewing machine."
She met her husband, Eugene "Chris" Christensen, at Boeing, where he was an electrician. After they married and had their daughter Carol, Melba returned to work in a different capacity, in a daycare center serving the children of women factory workers like she had been. She said "It was a nice job. We got the children fed and cleaned and put to bed, and I could take Carol with me." In 1947 Melba and her niece, Shirley both contracted polio, which she fought and survived, but which left her with permanent muscle and nerve damage. A few years after that the family moved to Eureka, and then to a ranch in Loleta where she remained for the rest of her life. She replaced the floors and the roofing on the ranch house herself and designed and built her own kitchen cabinets.
Melba loved babies and children and enjoyed doing all sorts of cooking, sewing and crafting, making flannel shirts for all the men and boys in the family; toys, dolls, dollhouses, costumes and holiday dresses for the grandchildren; multiple "crazy quilts" made from leftover fabric; and countless crocheted afghans, lap robes, slippers, hats and scarves for the entire extended family. In 2009 she received an award the California State Senate for 20 years of volunteer service to RSVP making blankets and hats for newborns at the hospital, "and the old folks at the old folks home" - many of whom were younger than she was! In her final years when arthritis and Post Polio Syndrome stopped her from doing many of her hobbies, she switched to doing jigsaw puzzles to keep herself busy. She was determined, industrious, and tough, but also sweet and loving.
Melba was preceded in death by her twin brother Melville Wilson, sisters Bea and Dolores, her parents Lawrence and Lena, her husband Chris, her daughter Carol Moen, and her infant son Larry.
She is survived by her children Ralph, John, Mel (Marietta), Jean (Tom), and Kathy; grandchildren Brian (Emma), Lori, Tom, Althea (Dustin), Valerie (Shane), Chelsea, Natalie, and Julie; great grandchildren Katie (Seth), Tyler, and Michael, and great-great granddaughter Ella.
In lieu of flowers, donations may be made to Rotary International's End Polio Now campaign at www.endpolio.org
###
The obituary above was submitted on behalf of Melba Christensen's family. The Lost Coast Outpost runs obituaries of Humboldt County residents at no charge. See guidelines here.