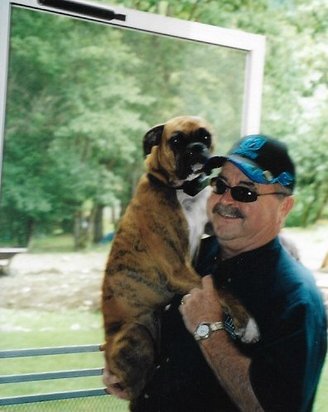 Robert Kenneth Hartman — "Bob," as most people knew him — passed away surrounded by his loving family on Sunday, April 7, 2019, at the age of 76. Bob was born in Seattle, Washington on February 3, 1943 to June (Prine) Hartman and Albert Hartman Jr.

Bob is survived by his wife of 29-plus years, Jacqueline (Jackie) Hartman. He is also survived by his daughters Mollie (Robert) Teames, granddaughter Sophie of Rocklin and Anna Hartman of San Diego; Jackie's children, son AJ Massei and grandchildren Brayden and Madison Massei of Sacramento, daughter Kimberly Massei (Mark) and granddaughter Taylor McClung (Derek) of Reno, Nevada. Bob is also survived by his sisters, Judith Hartman, Deborah Hartman, Lisa (John) Mielke of Eureka, Lesley (George) Gentry of Cameron Park, California as well as many nieces, nephews and cousins.
Bob and Jackie have spent the last 14 years living in Willow Creek, where they built their dream home. He enjoyed working at Ray's Food Place as a meat cutter and spending time in the beautiful weather with his family and friends. Bob absolutely loved golfing, but his all-time favorite thing to do was to BBQ. He sure knew how to cook up the best steaks in the world and everyone would agree with that. Bob was the kindest and most genuine man, he had a smile that could light up any room and a twinkle in his eye that we will forever miss.
Bob was the oldest of five siblings and the only son. His family moved to Eureka in 1950. He attended Franklin, Grant, Eureka Junior High and Eureka Senior High School. He was a proud member of EHS Class of 1960. Bob studied business at Shasta JC and he joined the Marines before heading back home to Eureka to help run the family business as well as a few businesses of his own.
Bob sure was a great football player. He played at the high school level and continued playing football after high school for the local Forrester's semi pro team. He also played softball for the Rockin' R fast-pitch softball team and enjoyed every minute of it.
Bob spent most of his life helping to run the family business, Rockin' R Meat Company. He also delivered product all over Humboldt County during the 64 flood and to many customers directly whom he loved dearly.
Bob was involved in many things throughout his years in Eureka. He was an Eagle Scout leader at Camp Kimtu, he was involved with cooking the pig at the Fortuna Rodeo and was a 20-30 Club member. Bob enjoyed his family ranch in Petrolia and loved to go hunting. For many years Bob enjoyed being a part owner of Frankie's Champagne Palace and Vista Del Mar. Bob was an Elks Lodge member and was the friendly meat cutter at the market in Willow Creek. If you were lucky enough to know Bob, you know of that infectious grin.
Bob's family would like to thank the Willow Creek Volunteer Fire Department, Hoopa-Willow Creek Ambulance and the staff at Mad River Community Hospital for their loving care throughout these last few years. Donations may be made if you wish to a charity of your choice.
Bob lived a full life. He was loved more than words could ever describe and his family feels so fortunate to have all of the wonderful memories with him that they have – from his Red convertible T-Bird, Gold 911 Porsche, black Dodge Viper truck to his best buddy Mercedes, their Boxer.
The family would love for you to come celebrate Bob and the wonderful man that he was, and to please share your memories of him at his Celebration of life on June 15 from 2-5 p.m. at the Elks Lodge on Herrick Avenue in Eureka.
###
The obituary above was submitted on behalf of Bob Hartman's family. The Lost Coast Outpost runs obituaries of Humboldt County residents at no charge. See guidelines here.