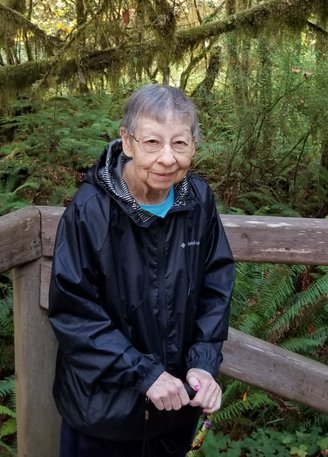 Lucille (Luci) Jones passed away on May 14, 2019 at Renaissance at Timber Ridge, McKinleyville. She was 89. During her short illness of heart failure and pneumonia, she was surrounded by family and friends. Luci was a very social person and seemed glad to have a crowded room at Hospice House in Eureka where she spent most of her final last week of life.

Luci was born in Chicago, Illinois on March 20, 1930. She grew up in Maywood, a suburb of Chicago and graduated from Proviso High School.
Shortly after graduation, Luci met and married her beloved Ritchie, with whom she spent the next 65 years living in Chicago; McHenry, Illinois; Janesville, Wisconsin; San Jose and finally Trinidad, where they lived for 23 years. They met when Luci's brother David brought his buddy, Richard Jones, home to Maywood while they were on leave from the Army.
Rich and Luci owned a thriving small business together. At Almaden Watch Repair in San Jose, Rich and son, John, would do the repairs while Luci ran the counter. Luci's social nature and outrageous sense of humor kept customers coming back. They were so successful that lines of customers would be out the door. The San Jose Mercury newspaper ran a piece about them when they closed because so many people wrote in asking what happened to "the watch guy" and his wife.
When Rich and Luci retired in 1997, they moved to Trinidad. Luci joined Christ the King Church in McKinleyville where she made friends in a Bible Study group. She was a Eucharistic Minister there for about 20 years.
Luci and Rich rode a motorcycle most of their lives. They would don their leather riding gear, and Luci could be seen on the back of the bike, her rosary beads flying while she prayed the entire trip. They rode a Honda Goldwing touring bike many years until Rich couldn't hold it up at stoplights any more. They then bought a Ural with sidecar that won a Best of Show award one year at "Bikes by the Bay," an annual local motorcycle event. Luci still prayed her rosary in the sidecar.
Luci moved into "the memory unit" of Timber Ridge in December 2018. She really blossomed there because living in a community was just what she needed. She loved socializing with the residents and staff. She would greet everyone with, "I love you!" It caught on and residents and staff started to respond with "I love you, too, Luci." She brought sunshine to Timber Ridge with her sense of humor, her warmth and love, and her quirky ways.
Luci is survived by her children John Jones and Cherie Thomas, son-in-law Mike Thomas, sister Gay Minder, brother David Warren, grandchildren Brian Thomas and Jenni Field, twenty nieces and nephews, and a multitude of grand-nieces and nephews.
Mass of the Resurrection will be held Thursday, May 23, 2019, at 1 p.m. at Christ the King Church, 1951 McKinleyville Avenue, Mckinleyville. Interment will follow at Trinidad Cemetery.
In lieu of flowers, donations will be gratefully accepted at Christ the King, or flowers can be sent to Sanders Funeral Home, 1835 E Street, Eureka, where they will be left on the church altar in her memory.
###
The obituary above was submitted on behalf of Luci Jones' family. The Lost Coast Outpost runs obituaries of Humboldt County residents at no charge. See guidelines here.