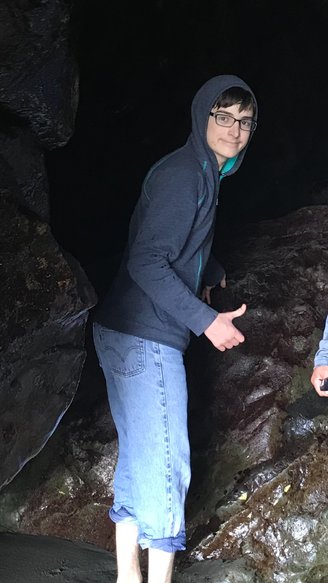 Sawyer Everett Hawkins, was born January 9, 2003 in Oregon City, Oregon to Scott and Dawn Hawkins. Sawyer left this world on May 3, 2019.

Dear Sawyer,
We love you so much. We are crushed. You left us way too soon. We're left with no choice but to live our lives without you. Us and others that you touched will wake up every morning realizing you're gone and wish it wasn't true.
Only memories will remain. Memories of you being born. Memories of your young life. You were our youngest. Your sister Taylor and brothers Skyler and Tucker each developed unique special bonds with you that they will cherish forever. They loved you so much.
Your Auntie Rae and cousins James and Ali will forever remember you. Along with all your other aunts, uncles and cousins.
We're lucky to have all the pictures and videos of you. As we see them we will laugh as hard as we can, and then cry rivers of tears.
You loved going to the beach and exploring the tide pools. Finding things washed ashore, climbing on rocks and playing in the waves.
You loved walking through the woods, exploring forest life and climbing on stumps. Going down the slides and swinging on the swing at Redwood Park.
All your grandparents loved being with you. They taught you new and interesting things. And I'm sure they would all say you taught them just as much.
You loved going to Ruth Lake, and staying at Grandpa Bill and Grandma Lori's place right on the lake. Jumping off the dock, swimming and fishing.
You spent lots of time with Grandma Ann and Grandpa Jim. They will especially miss you. They took you on trips where you got to see and do things that you might not have otherwise.
Grandpa Bruce and Grandma Rosemary passed away two years ago. You brightened up their lives and they loved every moment they had with you.
People gravitated towards you because you were so interesting, and fun to be around. You were such a likable person that no one could resist becoming your friend, and you had many, so many.
The memories of you growing up and becoming such a smart, funny, deep thinking person was a joy to watch. You loved life, and the universe, and could talk at length about both.
You developed a love for drama and acting. It was amazing to see you on stage, in character. You worked so hard and did so well it was truly amazing. Thank you Mr. Nystrom.
You loved writing. You were writing a book about a future world where everyone lives in peace, happiness and fulfillment. A world where there's no hatred and no one hurts anyone. A utopia.
You wanted us to change the world for the better, and we will strive to do that from our little piece of this rock we live on.
Your mother and I are heartbroken and devastated. You were your mother's baby and she took pride in everything you accomplished. There's no words that can heal the sorrow we will live with.
You and I had many deep conversations about the world and everything that goes with it. I desperately wish we could talk one more time.
We love you so much Sawyer and we'll miss you forever.
We're all so sorry, love Dad.
Everyone who has known and loved Sawyer are invited to attend a celebration of his life. It will be at Azalea Hall in McKinleyville, (1620 Pickett Road) Sunday, June 2, at 2 p.m.
###
The obituary above was submitted on behalf of Sawyer Hawkins' family. The Lost Coast Outpost runs obituaries of Humboldt County residents at no charge. See guidelines here.