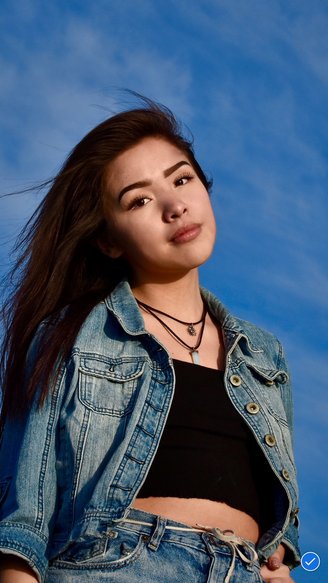 Wau-Kela Eliza Earlene Dowd, age 17, passed away unexpectedly on Friday May 17, 2019. Kela was born on August 31, 2001 in Crescent City to mother Moonchay Dowd and father James Bowen. Kela had a fascinating and angelic soul. Beautifully shy yet goofy. Embracing her hippy vibrations with good thoughts and by doing things at her own pace. Kela loved to spend her days chilling with her family and friends. Coming from a very large family Kela was always surrounded by people she loved and ones that loved her. She was one of nine children and was rarely seen without one of them by her side.

Wau-Kela was a member of Resighini Rancheria. Kela was of Yurok, Tolowa, and Maidu descent. She loved participating in her indigenous culture in any way she could; making regalia, learning her native language, listening to dance tunes, and spent her summers going to dances. She liked spending her free time learning about astrology and palm reading, going to the beach and river, hiking, doing art and yoga, drinking ice water and taking naps. If you knew Kela you knew she always had a playlist ready which slapped and she was rocking a comfy pair of pants. Much of her time was spent listening to music, making videos, and getting dolled up.
Kela was always up for an adventure and exploring new territory. She wasn't one to turn down a new opportunity. As a junior Kela chose to move to her uncle's in Sacramento to attend Vista high school in order to meet new people and broaden her perspectives. Kela then returned to Del Norte high as a senior to graduate with her hometown friends and worked in Resighini's Natural Resource department. She planned on attending College of the Redwoods in the fall.
Wau-Kela is survived by her mother Moonchay and partner Timber and by her father James. Grandparents Gramma Allen, Debbi "Bubbi" Earls, Frank Roddy Dowd, Angela Evenson, Patti James, and Ronald Bowen Sr. Siblings Myah, Farah, Autumn, and Brody Dowd, Falcon Williams, Tianna Allen-Bowen, Tyesha and Kegan Sanderson. Aunts and Uncles: Israel & Kandis Dowd, Spaghe & Czarina, Rocky, Roxann, and Guy Dowd, Madison & Jake Flynn, Nikki & Jeremiah, Chelsey & Johnny, Ronald Bowen JR, James Bowen, Willie, Aleck, Marty, Andy, and Ashley Lamebear, Sascheen, Key-shan Bowen. Great Aunts and Uncles: Rhonda, Kathy, Susie, Ricky, Gary, and Davy Dowd, Donald McCovey, Chrissy Sieg, Sandy Paul, Clayton & Teresa Earls, Jim and Patty Drobny, Frank Drobny, and Noreen & Harold Jones, Charlene Storr, Mikki Hammons, SonnieMae Rubio, and Edith, Phillip, Charles "Buddy" Bowen. Cousins: Ryan, Justin, CeCe, Vinny, Collin & Ethan, Dayton, Damian, Danner, Draiden, Quispen, Little Rocky, Zaiden, Samiah, Jo Noah, Nateya, Sueveya, Adeline, Johnnie, Ke-Kyua, Kay-Cam, River, Teek, Kara, Lorita, Joseph, Ayden, Kayson, Andrew, Auhna, Uo-nas-cha, Earlene, Ivy, Cha-Keni. Close friends: Willow Shock, Josey Carlson, August Ortman, Dachines Jones, Irene Campos, Miguel Cruz and Kyla Nelson. She is proceeded in death by great grandparents Frank SR. and Venola Dowd, Audree & Charles Bowen, Jimmie & Josephine James, Aunts Becky and Lorita James, Aunt Dee, and Daniell Coney, Uncles Paul, Matthew, Jimmie "Junior" James, Cousins Misty, Kaget, Tyler, and Gerald Dowd, and Tara Gordon and Ryan Sanderson.
Pallbearers Frank Roddy Dowd, James Bowen, Timber Scott, Izzy, Spaghe, Rocky, Guy, Brody Dowd, Thomas Gordon, JR, Ronald Bowen SR., Falcon Williams, Marty and Willie Lamebear. Honorary Pallbearers Davy, Gary, Ricky, Ryan, Justin, Vinny, Dayton, Damian, and Danner, and Little Rocky Dowd, Isaac Kinney, Pergish Carlson, Johnny Provolt, Miguel Cruz and August Ortman. And many other countless family and friends. And let's not forget the honorary Care-bearers Myah Dowd, Farah Dowd and Josey Carlson.
Wau-kela we will love and miss you always and forever. A-wok.
Services will be held Thursday, May 23 at 2 p.m. at Cornerstone Church in Crescent City. Burial will follow at LOOF cemetery in Crescent City, with reception at the Cultural Center immediately following.
###
The obituary above was submitted on behalf of Kela Dowd's family. The Lost Coast Outpost runs obituaries of Humboldt County residents at no charge. See guidelines here.