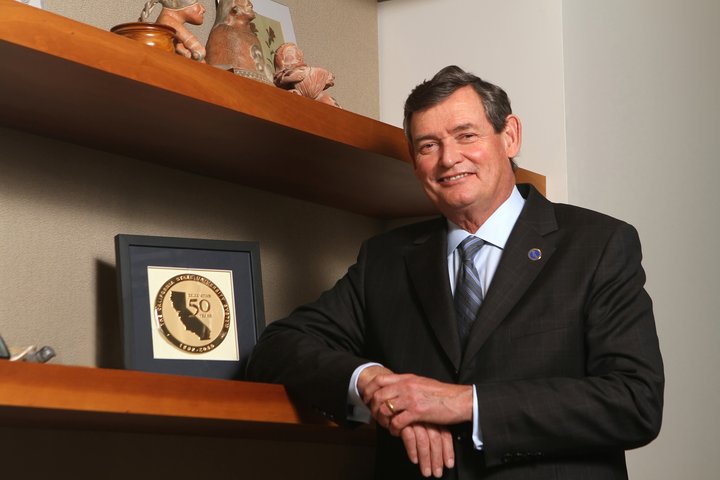 Open letter from California State University Chancellor Timothy P. White:
Yesterday, the California State University Board of Trustees announced an important decision that I am confident will have a lasting and profoundly positive effect on the future of the North Coast.

Dr. Tom Jackson, Jr. has been appointed the next president of Humboldt State University. Dr. Jackson currently serves as President of Black Hills State University, in Spearfish, South Dakota. A unanimous selection from a deep pool of eminently qualified candidates, Dr. Jackson brings to HSU a wealth of administrative experience and a long history of improving student achievement.

During his time as BHSU president, Dr. Jackson has led many initiatives to increase affordable opportunities for students to earn a college degree. His dedication to service learning has strengthened the ties between the university and its community.

He is a respected and innovative leader who will ably steer HSU into the next decade and beyond.

Humboldt State is critical to the prosperity of the region. Through the quality of its academic programs and the commitment of its world-class faculty, HSU provides life-changing pathways to social mobility for the residents of the North Coast. It is a vital engine that creates and sustains thousands of jobs and generates hundreds of millions of dollars in economic impact to the area.

Humboldt State is a public good that benefits its extended community in myriad ways. Students, employees and the community are connected through the academics, athletics, cultural programs and research that thrive on and around campus.

While HSU's future is bright and boasts unlimited opportunities, through a confluence of factors, the campus – like any university – does indeed face challenges. These challenges have required the current administration to make a number of difficult decisions. Although unpopular, these choices have been made in the best interests of the campus' ability to serve its students, and will help ensure Humboldt State's bright future.

I thank President Rossbacher for her leadership at HSU and for her service to the California State University and the people of California. Student success has flourished during her time as president, and four-year graduation rates have reached all-time highs. One has to look back only a few days, to last weekend's commencement ceremonies and the 2,500 Californians who walked across the stage to receive their bachelor's or master's degree, to see the fruits of her labor.

She also has been dedicated to inclusion and diversity. This is not merely my personal observation; it was highlighted specifically in a commendation from the WASC Senior College and University Commission as part of HSU's re-accreditation – yet another feather in her cap.

President Rossbacher has laid a solid foundation upon which Dr. Jackson will continue to build.

During the coming months, Dr. Jackson will engage community members and other stakeholders, as HSU redoubles its efforts to not only sustain, but grow the life-changing opportunities and economic benefits it provides to its students and the region it serves.