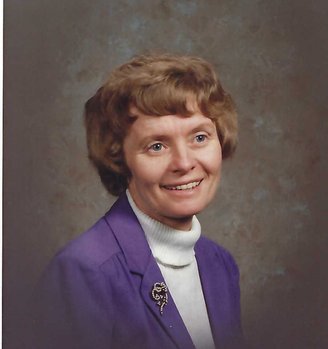 Evelyn Leroyce Murphy Kuehnert was born in 1933 at Goleta, California. She passed after a short illness. She was the first girl born in the Bowser family. She had 8 uncles which enjoyed doting on her. She had many fond memories being raised on a dairy farm in Corning: drinking fresh cream, eating food grown on their farm and playing in the creeks. She married Nevin Jerry Murphy in 1952. They had three children, Michael Murphy of Paskenta, Linda Griesbach Murphy of Fortuna and Ronald (Mary) Murphy of Walla Walla. They were married for 51 years until his death.

Karl Kuehnert and his wife, Elsie, were good friends with Evelyn and Jerry. They attended the same church and were in bible studies together. When Elsie passed away, Karl missed her greatly. Evelyn had a fall, broke her arm and was unable to drive. Karl offered to drive her to church. When her arm was healed, she thanked him for his help and told him she could drive herself. Karl was enchanted with her and started to pursue a relationship. Evelyn had lived alone for 6 years, and was not planning on remarrying, but in 2009 she married Karl Kuehnert. God blessed her with two wonderful, loving, and caring husbands.
Evelyn loved people and life. She had the wonderful gift of hospitality. She was always ready to feed and help people. Evelyn was very health conscious in her diet and lifestyle. It was not uncommon for her to walked two miles or more a day, until the time of her illness. She enjoyed gardening, studying her bible, reading and cooking. At the end of the gardening season, she would gather her tools, sharpen, oil and store them until spring.
Her family was an important priority in her life. She was a great cook and every day prepared a family meal to enjoy together. Her meals included delicious produce from her garden. She valued nutritious food and financially supported the start of the Eureka Co Op. She loved being in nature, walking on the beach, and collecting rocks on her walks. She drew great delight bringing nature into her home. One could find jars filled with agates beautifully displayed in her home. She did not have many clothes and shoes growing up, but she made up for it as an adult. The dress she wore for her marriage to Karl was a beautiful blue silk dress, that was just her style. Evelyn was always well dressed and beautiful.
She enjoyed having fun. The family remembers being together, talking and laughing until everyone ended up in tears of laughter. Even in her late 70s she climbed out the upstairs window, onto the steep roof of her home, to repair the leaking sun roof. Evelyn solely managed her house and finances when Jerry passed with great skill and wisdom, even though she had never managed the family finances before. She had a great deal of compassion and common sense.
Evelyn loved God and was actively involved in her church. She spent many years teaching Sunday school, attending Bible Study Fellowship and teaching Child Evangelism. She supported missionaries, Eureka Rescue Mission and many young adults that needed help, both physically and financially.
She is survived by her husband, Karl Kuehnert of Eureka, brother Ted Bower of Redding, her three children and numerous grandchildren and great grandchildren. She was preceded in death by husband Nevin Jerry Murphy in 2003, beloved father Ted Bowser in 1991, mother Francis Bowser in 2008.
Her kindness and smiling face will be greatly missed by her family and friends.
A memorial service honoring her life will be held on June 2 at 2 p.m. at the Eureka Seventh Day Adventist Church at 4251 F Street, Eureka. There will be a time of sharing memories during the service. In lieu of flowers, donations can be made to the Eureka Rescue Mission.
###
The obituary above was submitted on behalf of Evelyn Kuehnert's family. The Lost Coast Outpost runs obituaries of Humboldt County residents at no charge. See guidelines here.