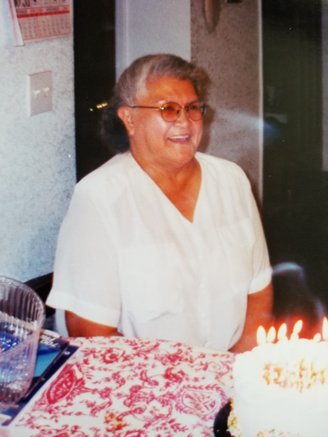 Beverly N. James
1931 - 2019
Beverly was born on the "old rez" on Oct 28, 1931 to Ralph and Ruby Johnson. The only girl, with 7 brothers, Beverly was a natural little mother. After attending Stewart Indian school and Eureka High, she married Albert E. James on Aug 13, 1949. She and "Jim" had 4 children: Lois, Jerry, Marilyn and Albert Jr.
Beverly held many jobs in her life. She worked in the potatoes, she was a housekeeper and a tribal administrator, and for several years she and Jim traveled around the state educating Indian people about their rights despite Termination and how to make congress recognize their trust responsibilities.
But if you had asked her what her greatest accomplishment in life was? Her family. She loved her husband, children, grandchildren, great-grandkids, nieces, nephews, brothers and all her relations. She and Gramps always took extra kids on their family trips and that continued through her grandchildren as well. She was known for saying, "we're making memories" and she was oh so right. An adventurous spirit she took her girls to see the Beatles at the Cow Palace in 1964 and 24 years later took two of her granddaughters to see Day on The Green at Oakland Coliseum. She was particularly close to her niece Sonia, making sure that she knew her family on the Rez.
After suffering several strokes, Beverly was brought home to spend her final days in her own room surrounded by her loved ones. She was preceded in death by her husband Jim, daughters Lois and Marilyn, granddaughter Stephanie, her parents and all but one of her brothers. I'm sure the reunion on the other side was one of love and joy.
She is survived by her sons Albert Jr. and Jerry, her brother John (Amanda), her sister-in-spirit Isabel, her grandchildren: Gail (Rich), Anita (Rollin), Jackie (Jason), Vincent, Alicia, her great-grandchildren: Richie, Corinne, Allie, Matt, Kirsten, Joshua, Jocelin, Katelyn, Tyler, Taryn, Jammie, Shane, Brianna, Alana, Mariena, Ella, and her great-great-grandchildren: Jonah, Isabella, Lilyana, Aiden, Izzy, Reegan, Vander and unborn baby Green due around her birthday. She is also survived by numerous nephews, cousins and extended family in and around Table Bluff Reservation.
A celebration of Beverly's life will be on Saturday, June 1, from 3-5 p.m. at the Humboldt Bay Aquatic Center located at 921 Waterfront Dr, Room 203, Eureka. Please come and share stories with the family.
###
The obituary above was submitted on behalf of Beverly James's family. The Lost Coast Outpost runs obituaries of Humboldt County residents at no charge. See guidelines here.