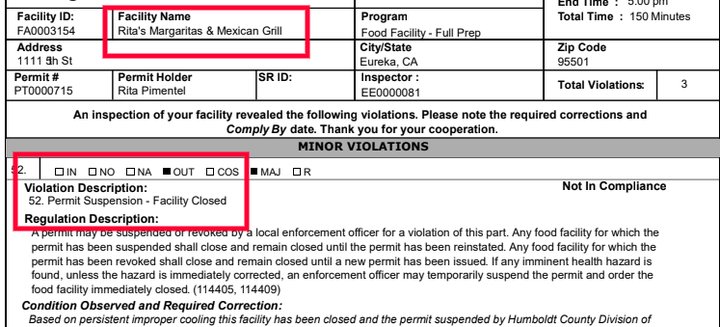 ###
PREVIOUSLY:
###
Inspectors with the county's Division of Environmental Health today shut down Rita's Margarita's and Mexican Grill on Eureka's Fifth Street, after a series of inspections this month showed that the restaurant has had chronic problems storing and maintaining food at proper temperatures, as well as similarly chronic problems with its dishwasher.
The order came after an inspection this afternoon — the fourth in the month of November alone. A routine inspection on Nov. 7 was quickly followed by two reinspections last week and a third today.
The health department has ordered Rita's to remain closed until such time as it has repaired its dishwasher, provided the kitchen with enough thermometers to measure food temperature and develop a "cooling procedure for all cook/cool foods" along with staff training on the system.