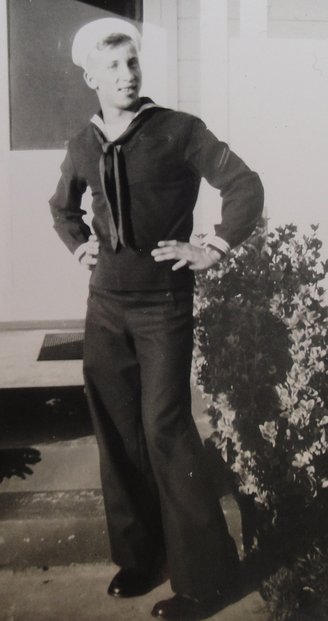 George "Dale" Ireland passed away peacefully at home in Fortuna on October 15. He was 87 years old.

The son of George and Mildred Ireland, and older brother of twins Jerry and John Ireland, Dale grew up in the small but thriving mill town of Carlotta. He had fond memories of his childhood in Carlotta, especially of trips to the Carlotta General Store and of walking with his friends down to the mill to watch the unloading of giant old-growth Redwood logs.
By his teens, Dale developed a life-long love of all things mechanical—especially cars and motorcycles—and of understanding how things worked. He and his friends loved working on and hot-rodding their cars and motorbikes, and also taking their bikes off-road.
Dale attended Fortuna High School and, after graduation, he joined the Navy and was assigned to the Destroyer USS De Haven, DD727. On board the De Haven, he sailed from Long Beach to the Sea of Japan, where he served as Chief Petty Officer in Engineering and as Oil King during the Korean War. He was proud of his service and of the De Haven's role in support of the U.S. Carrier Groups.
While in the Navy, Dale had the opportunity to visit Japan. He also got to spend time in 1950's Los Angeles and later enjoyed telling stories about the times when he and his shipmates would pool their money to buy the cheapest car they could find and head out to explore and have fun.
After returning from sea, Dale came back to Humboldt County and married Janet Gracey, his wife until her death in 2007, and they settled in Fortuna. He helped to raise her three children from her previous marriage—Galen, Gayla, and Judy—as his own family; and they had three sons together—Phil, Tim, and Pat.
Dale went to work in the woods, first as a choker setter and then as a cat skinner, but he soon realized that what he wanted to do was haul logs. Over the next 40 plus years, he drove for Hammond, Sorenson, Canevari, and Lewis, driving mostly short loggers and learning the highways, backroads, and mills of Humboldt County like the back of his hand. He loved his work and took pride in it, and after retiring as a driver, he spent time teaching commercial driving in College of the Redwoods' vocational program, passing on his knowledge.
After Dale's retirement from teaching, he and Janet did some traveling, especially enjoying a trip that they took to New Orleans. They both loved music and regularly attended the Dixieland Jazz Festival. They enjoyed their cockatiel, Taz, and watching the NFL. Dale also liked salmon fishing off the coast.
In his later years, Dale loved learning about and using new technology. He was a voracious reader who was always on the lookout for interesting new writers. He stayed active and independent, and liked going for regular walks with friends or with his brother Jerry and seeing what was going on around Fortuna. Still the car fan, he also always enjoyed the Fortuna AutoXPo. He loved meeting people and never stopped making new friends.
Dale was preceded in death by his parents, George and Mildred Ireland, his wife Janet Ireland, his daughter Judy Frey Axelson, and his sister-in-law, Caroline Ireland.
He is survived by his brothers, Jerry and John Ireland, and his sister-in-law Pat Ireland; by his children, Galen Frey, Gayla Frey Thompson, Philip Ireland, Timothy Ireland, and Patrick Ireland; by his daughters-in-law, Sally Frey, Cindy Ireland, Katherine Ireland, and Renee Ireland; and by his many grandchildren and great-grandchildren.
He was loved and will be missed.
###
The obituary above was submitted on behalf of Dale Ireland's loved ones. The Lost Coast Outpost runs obituaries of Humboldt County residents at no charge. See guidelines here.