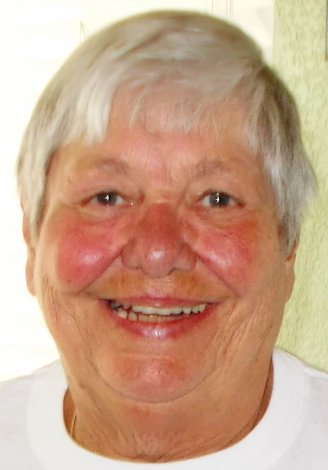 Ardith Jill (Bergers) Stover unexpectedly passed away at home on October 23, 2019 at the age of 86. Jill loved sharing time with people as well as traveling whenever she could. Those two loves are what defined her life. She was witty and always had a good joke to share, even if it was slightly inappropriate.

She was preceded in death during her youth by her parents Jacob (1939) and Dorothea (Dykman) Bergers (1945); and her brother Adrian Jack Bergers earlier this year. She was proud of her Dutch heritage.
Jill was born in East Grand Rapids, Michigan on April 23, 1933. She was raised by aunts and uncles after her mother passed but was guided through life by family friends "Aunt" Esther and "Uncle" Earl Gier who were her mother's restaurant partners in Spring Lake. She graduated from Zeeland Highschool playing the clarinet in band. Her yearbook described her as a chatterbox and seems true today. She continued to Business College and served in various administrative roles including six years at the Grand Haven, Michigan Chamber of Commerce. Her highlight at that time was working with then-Congressman Gerald Ford who offered her a job to work for him in Washington, DC. She declined but Ford's photo proudly hung in her office during his presidency.
In her late 20s, she loaded her convertible with all her possessions to leave the bitter cold winters for the warm beaches of San Diego. That is where she had her two sons Ward & Myles. She moved to Eureka in 1966 supporting a husband's dream that did not last. However, that is when she began her real legacy.
Jill landed a job at College of the Redwoods in 1968 serving as the shared secretary of the fledgling Physical Education and Public Safety (Police Academy) Departments. She continued as Secretary for the PE Department in their new gym/pool facility and served as mom and chaperone to many athletes and cheerleaders. She rarely missed a home game regardless of the sport. She kept a pair of shears in her desk and was often found in the outside breezeway giving a quick haircut for players before a big game. Jill was inducted into the CR Athletics Hall of Fame for her devoted support to the Corsairs sports programs for the past 51 years. She retired in 1995.
As a single mom, she took her two boys on three 6-week summer road trip adventures to Michigan in a little Toyota Corolla. They travelled through every state south and west of Michigan as well as five provinces in Canada. She looked forward to her annual 2-week trip to Mesa, Arizona during Thanksgiving with the grandkids, to sit by the pool with a good book in 80-degree weather. She was a consummate reader of novels and biographies. Her calendar was always full of activities and her age rarely slowed her down.
Jill was confirmed at Christ Episcopal Church in 1969. She sat in the same pew for 50 years if she wasn't singing in the choir. She did so much for the church that it's too numerous to list but was active with many new and old friends to her last day. The Sequoia Park Zoo benefited from her dedicated service to make many needed improvements since the days of the small iron cages. Jill served continuously on the Eureka Parks and Recreation Commission since 1981. She sang and traveled with the California Redwoods Chorale on trips to Europe too many to count. She was always the mentor to the new members that traveled and made many lasting friends. Jill donated over 18 gallons of blood in 39 years to the Northern California Blood Bank. When she had to stop giving in 2008 for health reasons, she was a weekly volunteer for the blood bank ever since.
She is survived by her sons Ward (Debra) Stover, Myles (Nancy) Stover along with her grandchildren Ryan, Casey and Lilly; extended granddaughters Autumn (Ricardo) deSolenni and Tennille (Scott) Wilson; along with great-grandkids Taylor, Braydon, Sophia, Olivia, Bruno, and Grace. She will be missed by them and her many friends. Memorial contributions may be made in her name to one or more of her favorite causes mentioned.
Friends and family are invited to attend memorial services at Christ Episcopal Church, Eureka on November 23 at 11 a.m. A luncheon reception will immediately follow in the Parish Hall where all are welcome to share their fondest memories of Jill.
###
The obituary above was submitted on behalf of Jill Stover's loved ones. The Lost Coast Outpost runs obituaries of Humboldt County residents at no charge. See guidelines here.