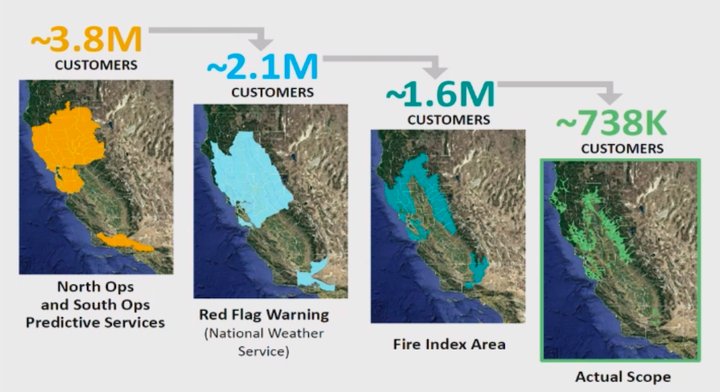 # # #
In the first public acknowledgement that last week's power shutdown was unnecessary here in Humboldt County, a PG&E senior vice president told the California Public Utilities Commission (CPUC) this afternoon that the local blackout "should not have happened."
The utility executive, Michael Lewis, blamed the problem on unpreparedness in the electrical grid, because a transmission line was down for maintenance.
PG&E executives appeared before state utility regulators today for an emergency hearing to address last week's "public safety power shutdown," which affected nearly three quarters of a million homes and businesses across the state.
According to testimony from today's hearing, only 16 percent of those who lost power — about 120,000 of the 738,000 customers affected — had their electricity cut because of transmission line issues. About 80,000 of those were here in Humboldt County.
CPUC President Marybel Batjer last week said PG&E's management of the shutdown was "unacceptable." The utility has said the deliberate outage was necessary to prevent catastrophic wildfires such as the 2017 Wine Country fires and the 2018 Camp fire in Butte County.
Liability from those fires is expected to cost PG&E billions of dollars. The utility filed for Chapter 11 bankruptcy in January.
After initially indicating that Humboldt would not be among the counties affected in the mass power shutdown, PG&E officials issued a notice last Tuesday saying customers here would have their power turned off after all. Residents had less than 24 hours' notice.
During today's hearing, CPUC Commissioner Martha Guzman Aceves asked PG&E executives whether Humboldt County customers would be reimbursed for losses suffered during the outage, since it was unnecessary here.
An executive responded that the utility hasn't made a decision about that yet.
# # #
Carrie Peyton-Dahlberg contributed to this report. A former editor of the North Coast Journal, Peyton-Dahlberg covered energy for the Sacramento Bee from 1997 through the early 2000s.