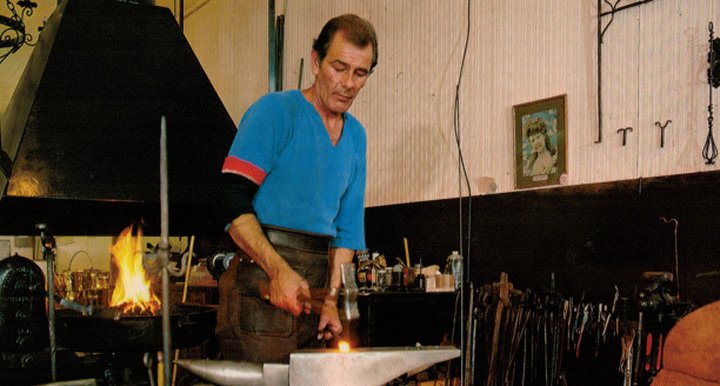 Joseph William Koches, owner of the Blacksmith Shop in Ferndale, passed away peacefully surrounded by loved ones in his home on September 15th, 2019 at the age of 81.
Joe was born on November 4, 1937 in Taylorville, Illinois. He graduated from Woodrow Wilson High in Long Beach, California. He was a member of a car club, the Carbenairs, during the hot-rod era and held many street records. He had many interest during this time, including archery, crafting pool tables and working with cultured marble.
He moved to San Francisco while working in the trauma ward in San Francisco General Hospital. He was one of the first twelve physician assistants in the country, which brought him to Humboldt County in the mid-seventies. He was the first paramedic teacher at College of the Redwoods and played a crucial role in starting the emergency room at St. Joseph's Hospital in Eureka. Additionally, he served as a member of the Ferndale volunteer fire dept from 1975 to 1990 as a medical responder.
In 1979 he opened the Blacksmith Shop and thus dedicated the rest of his life to the craft of blacksmithing. He owned the largest collection of contemporary blacksmithing in the country and helped support hundreds of smiths throughout their careers. He won the prestigious Bealer award from the Artist Blacksmith Association of North America in 2018 for his outstanding service to the art. Joe was also a founding member of the Kinetic Sculpture Race with Hobart Brown and received a lifetime achievement award from the Kinetic Grand Championship in 2019.
Apart from his love for blacksmithing, he was married three times and had many girlfriends. He loved art, plants, the outdoors, animals, kids, Ferndale parades, particularly the pet parade, where he made up categories to ensure everyone who participated won. Joe was known for his kindness, wit, sense of humor, honesty and charm. He was often found sweeping the sidewalks in front of his shop on Main Street and tending to his flowers.
Joe is survived by his sons Joseph A. Koches, Jeffrey J. Koches, Mike T. Koches, grandchildren Jennifer R. Koches, Joseph Kai Mele-Koches, Syona L. Mele-Koches, Chase A. Koches, and Cole A. Koches. Preceded in death by his father Joseph A. Koches and mother Violet Rovola Koches.
There will be a celebration of life on November 9 at 1 p.m. at the Blacksmith Shop Gallery in Ferndale for all those who knew Joe.
###
The obituary above was submitted on behalf of Joe Koches' family. The Lost Coast Outpost runs obituaries of Humboldt County residents at no charge. See guidelines here.