UPDATE, 3 p.m.: As the above video shows, it's a strangely festive scene on Samoa beach, where many people have simply ignored the pleas to stay away from the site of the humpback whale that beached itself there this morning. One person is flying a kite.
However, the news is not good. Marine mammal rescue specialist Dawn Goley tells the Outpost's Ryan Burns that the whale has been freed from fishing nets, but they're not enthusiastic about its chances. High tide doesn't arrive until after 8 p.m. tonight, though there's some chance the whale might float before then. That's a long time out of the water.
Goley said that just pushing or rolling the whale into the water, Amos & Boris-style, is not a thing that they'll do. It would endanger both the whale and the people attempting to save the whale.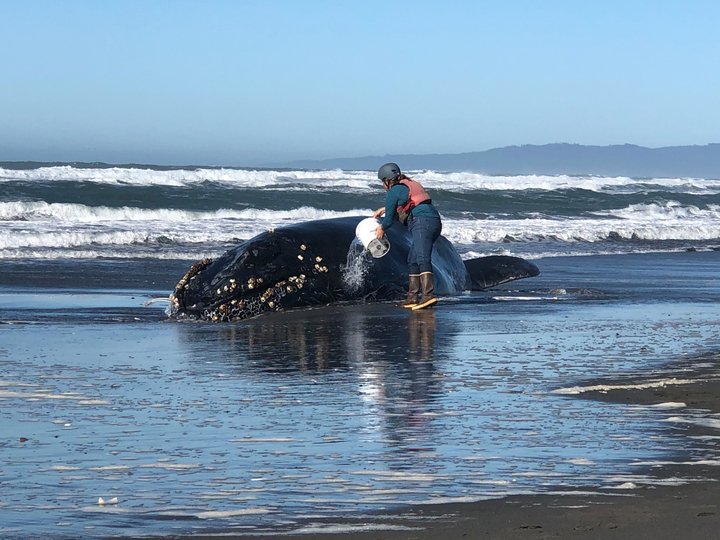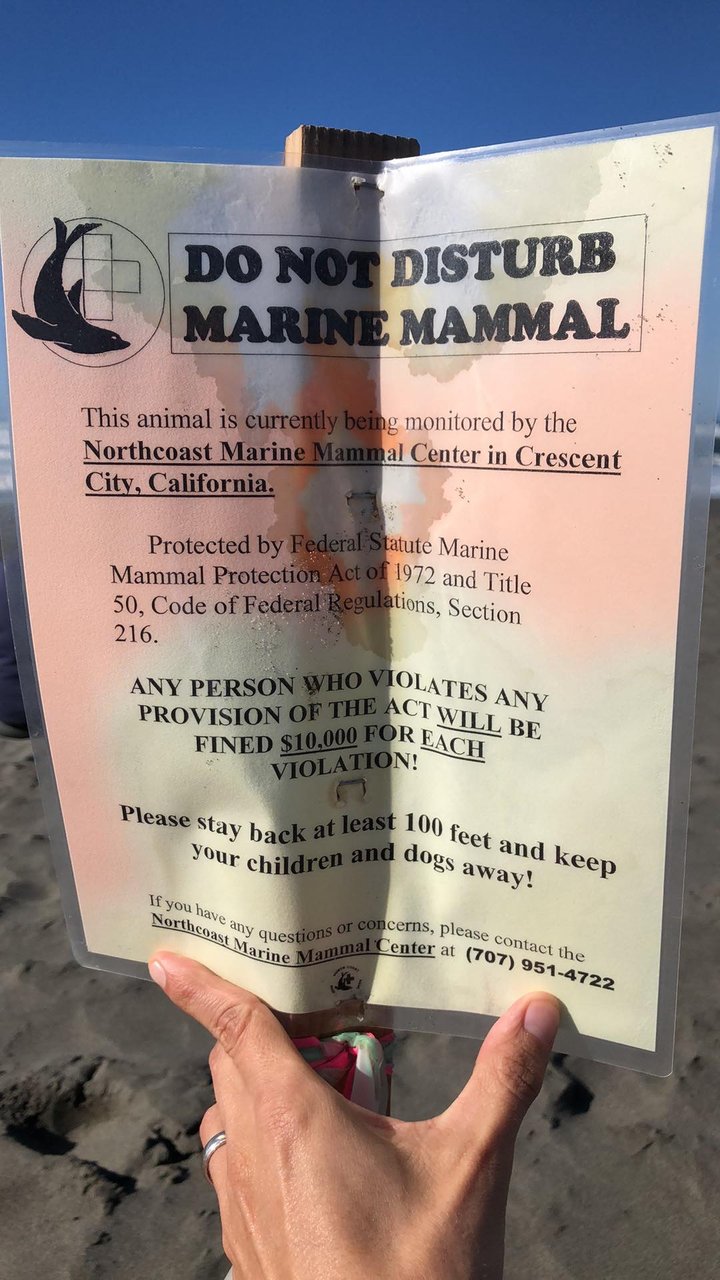 ###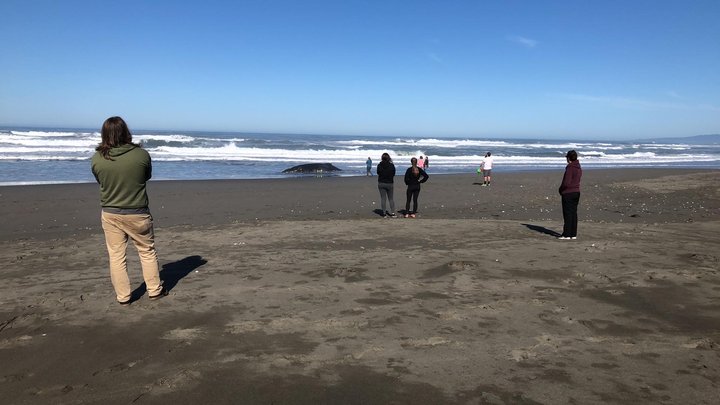 UPDATE, 11:55 a.m.: The Outpost's Ryan Burns spoke with Humboldt State's Dawn Goley, a marine mammal stranding expert, at the scene. Goley said that they're developing a plan in conjunction with experts around the country about how best to assist the whale — an adult humpback — back out to sea. But they're in the very early stages of that.
Audio below:
###
UPDATE, 11:24 a.m.: Marine rescuers at the scene tell the Outpost's Ryan Burns that the whale — about 30 feet long — appears to have been tangled in the netting only recently, and that it's moving around quite a lot. Both of these are good signs, we're told.
The tide is moving out at the moment. When it gets a bit lower, say rescuers, they'll go in and attempt to cut away the netting.
###
IMPORTANT UPDATE: A representative of the Northcoast Marine Mammal Center called up to request that people stay away from the scene. "Let us work," she said.
###
A whale has washed ashore on the Samoa Peninsula. It appears to be tangled in fishing gear and is still alive.
Eureka resident Berkeley Kijsriopas said she and her mom discovered the whale about a 10 minute walk north of the Samoa Beach parking lot. They called the animal rescuers from HSU's Marine Wildlife Care Center, who have arrived on the scene.
"I guess the netting is wrapped in its mouth and around its body," Kijsriopas said in a message to the Outpost.
Kijsriopas said the whale is about 20 feet long and sounded like it was crying.
We'll update this post as more information becomes available.