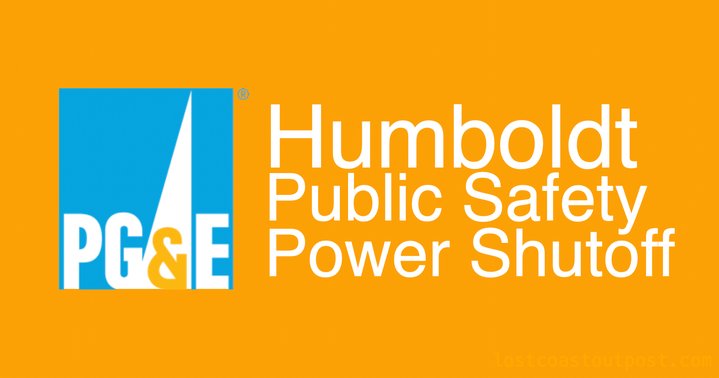 # # #
UPDATE, 9:52 a.m.:
Here's a more thorough release from the Humboldt County Office of Emergency Services:
A large majority of Humboldt County residents remain without power after PG&E implemented a Public Safety Power Shutoff (PSPS) around 10:30 p.m. on Saturday, Oct. 26. At this time, PG&E is reporting that air and ground crews are inspecting power lines with the goal of full power restoration before the next planned PSPS on Tuesday, Oct. 29. Humboldt County Office of Emergency Services (OES) has received reports that power is coming back on in some parts of the county, but PG&E acknowledges that some customers may remain without power through the next shutoff. Please note, all information provided by the utility is subject to change at any time.

PG&E has said that the Oct. 29 weather event is expected to begin around 6 a.m. with power being shut off around 4:30 a.m. Residents should be prepared for power to go off any time overnight tonight. If your power is restored, use that time to restock emergency supplies, recharge medical and other devices, make arrangements for medical needs and refuel vehicles and generators.

Individuals with a disability who are dependent on electricity to power life-sustaining durable medical equipment or are PG&E Medical Baseline Program customers and who need help should call or text Tri-County Independent Living at 1-833-866-8444 for assistance. If you are experiencing a life-threatening emergency, call 911. Do not call 911 for information about the power outage.

Community Resource Centers (CRC) will be available at the following locations for the duration of the event:

Thomas Home Center - 1685 Sutter Rd, McKinleyville (Bring your own charging equipment)

Weekdays 7:30 a.m. to 7 p.m.

Blue Lake Rancheria – 428 Chartin Rd., Blue Lake (PG&E-sponsored)

Monday, Oct. 28 – 8 a.m. to 8 p.m.

Arcata Community Center - 321 Dr. Martin Luther King, Jr. Parkway, Arcata

Monday, Oct. 28 - 8 a.m. to 8 p.m.

Eureka Municipal Auditorium - 1120 F St., Eureka (Bring your own charging equipment)

Monday, Oct. 28 - 10 a.m. to 4 p.m.

Humboldt Bay Fire Bode Classroom "Medical Device Charging Station" – 3030 L St., Eureka

Monday, Oct. 28 – 9 a.m. to 6 p.m.

Fortuna Volunteer Fire Department - 320 South Fortuna Blvd., Fortuna (Medical Device charging only)

Monday, Oct. 28 – Throughout the day

Ferndale Fire Department - 436 Brown St., Ferndale (Staff on hand to evaluate medical and safety needs of residents)

Monday, Oct. 28 – Throughout the day

Hoopa Neighborhood Facilities – 11900 CA-96 (PG&E-sponsored)

Monday, Oct. 28 – 8 a.m. to 8 p.m.

Remaining PG&E-sponsored CRCs have not opened as previously reported. Additional openings will be posted to the Humboldt County Sheriff's OES Facebook page as information becomes available.
For information about school closures, follow the Humboldt County Office of Education on Facebook or contact your child's school district.

To learn more about PSPS, go to pge.com/prepareforpowerdown or by calling 1-877-9000-PGE. Sign up to receive location-specific emergency information through Humboldt ALERTs at humboldtgov.org/alerts. Follow Sheriff's OES on Facebook for the most recent updates. www.facebook.com/HumboldtCountyOES/
# # #
From PG&E, just after midnight:
Pacific Gas and Electric Company (PG&E) reported that the company issued a weather "all clear" for the Northern Sierras and North Coast communities within its service area currently impacted by the Saturday, Oct. 26 Public Safety Power Shutoff (PSPS). By 10:00 p.m. on Sunday, over 30,000 customers had their power restored.

Current Restoration for Oct. 26 PSPS

As wind conditions improved this afternoon a weather "all clear" was issued for customers in Humboldt, Siskiyou, Trinity, Northern Mendocino and portions of Lake County.

PG&E has begun safety patrols and inspections in the "all clear" in several counties before sundown, and will resume at first daylight on Monday, Oct. 28. PG&E will strive to inspect and restore power within 48 hours but given the significance of this high-wind event with gusts as high as 102 mph, the damage may be significant, requiring additional time and resources.

We will continue to monitor conditions for the remaining customers impacted by this historic safety shutoff in portions of counties including: Alpine, Amador, Butte, Calaveras, Colusa, El Dorado, Fresno, Glenn, Humboldt, Kern, Lake, Madera, Marin, Mariposa, Mendocino, Napa, Nevada, Placer, Plumas, San Joaquin, Shasta, Sierra, Solano, Sonoma, Tehama, Trinity, Tuolumne, Yolo and Yuba.

Restoration Process

More than 6,000 on-the-ground field personnel have been deployed and 45 helicopters are staged in the impacted areas. Helicopter inspections may be impacted by the Kincade firefighting efforts in Sonoma County.

PG&E has requested mutual aid of 1,000 workers from other energy companies and has secured the support of 129 mutual aid representatives from Florida Power and Light Company, Imperial Irrigation District, ATCO Electric, Puget Sound and Consumers Power Inc.

Additional Widespread PSPS Potential for Tuesday/Wednesday

PG&E is also closely following a potentially strong, widespread dry offshore wind event on Tuesday, Oct. 29, through midday Wednesday for Northern California, that is significant in scope and could impact approximately 35 counties across the Northern and Southern Sierra, North Bay, Bay Area and Santa Cruz mountains, North Coast and Kern County. Kern County is expected to experience these conditions from late Tuesday night, Oct. 29 through Thursday morning, Oct. 31.

PG&E will make every effort to restore power to as many customers as possible who are currently out of power due to the Oct. 26 PSPS. However, due to the dynamic and changing weather conditions, and high fire risk, some customers who are currently out of power may remain out throughout the duration of the next potential PSPS event.

For those customers able to have their power restored between events, PG&E urges them to use the opportunity to charge any medical equipment, phones and other electronic devices and restock emergency kits.

Some customers may continue to be impacted by the PSPS event, while others may experience power outages due to weather damage to the electric system.

PG&E will continue to monitor weather conditions and will be providing additional information regarding affected areas.